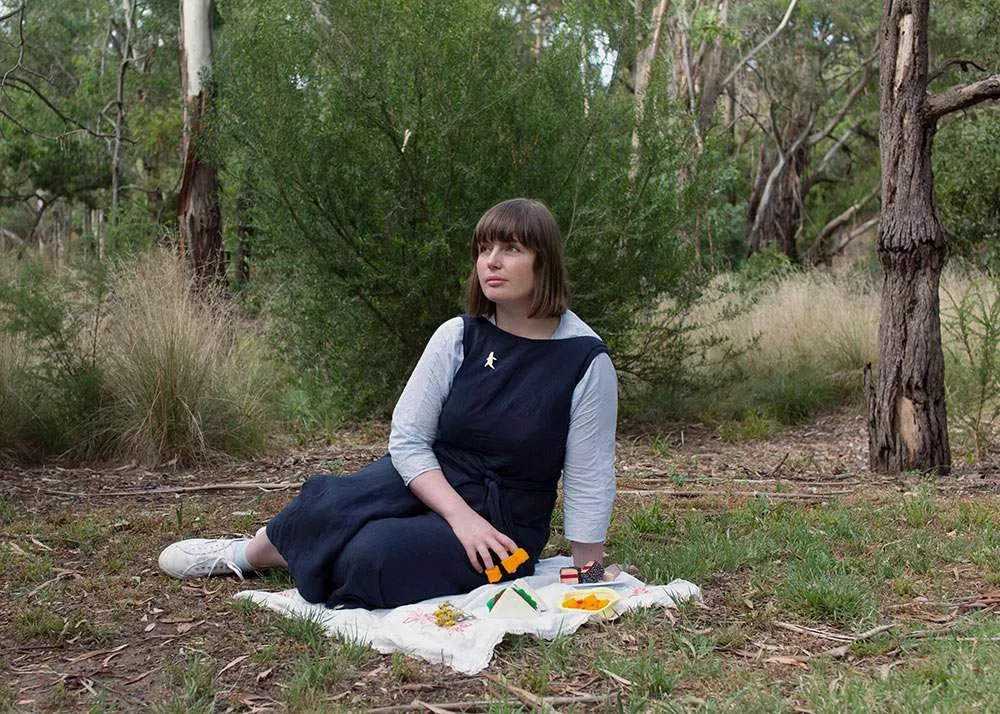 Cat Rabbit is a Melbourne based textile artist and designer. Cat works between a fluff-filled home studio with her cat, Porco, and a cosy space in the Nicholas Building. She makes plush sculptural works of her imagined characters and the worlds they might live in.
Cat also makes books for children and other fantastical artworks with her collaborator Isobel Knowles under the name Soft Stories.
Interview with Cat Rabbit
How do you describe your work to others?
I usually just show them a picture (:
Do you have a preferred medium?
Felt! Any felt. I just love how versatile and forgiving it is. I have also become enamored with wool roving, which I suppose is just felt that's taken a step backwards – it has so much potential! It can be moulded and sculpted into almost any form using wet or dry felting techniques.
How do you begin new work?
The process differs depending on what I'm making. If it's a character for commission or particular purpose, I will sketch it out first to work out what features I will emphasise and how it might be structured. If it's a needle felted blob (like the piece I just started) I just let it evolve.
Do you tend to work in series or do you see your body of work as a continuation?
Always a continuation.
What attracts you to your subjects?
I have always been a fan of animals of any kind (with the exception of mice – I'm sure they are nice but they make me nervous for some reason that I can't explain). Since childhood I have imagined animals living these secret lives with human characteristics and everyday occupations. I am also a big fan of food, and have lately been giving faces to egg yolks and apples. There's something about giving life to the everyday things that I appreciate, so they turn into little encouraging mascots that help you through the day to day.
What processes do you use to bring your ideas to life?
I usually follow a gradual process of adding, cutting and shutting.I have a bank of felt shape knowledge in my head to draw from, so I just add bits on, like building with felt and cotton. I like this process, as it tends to be more organic and less structured – I don't get too worried if it doesn't go according to plan because there is no plan.A bit like my life.
What do you use as reference material?
I don't tend to work from physical references too much.I like to work from memory be-cause it has a funnier, more naive result.
Do you work intuitively or more consciously?
Definitely intuitive.I make a base for the basic shape that I would like, then add on bits as I go.I guess it's more of a sculptural process, I cut and add and remove along the way.
What's your favourite colour to work with?
This changes daily. Today I am very excited about grassy green, particularly when paired with a nice candy pink.
Where do you create?
I do most of my sewing and felting in my home studio, under the strict supervision of my cat, Porco. My digital and photography work is done in my shared studio in the Nicholas Building.
Do you have a studio ritual to start the session?
Cup of tea and BBC 6 music radio. Put my phone as far away as possible, and keep Porco as close as possible.
What's your favourite music to work to?
I like a variety! Particularly radio shows where people can introduce me to new (or new to me) things. I have an archive of Jarvis Cocker's Sunday service (his radio show from BBC6 music) that I always fall back on when in need. Jarvis has a wonderful soothing voice and reads excerpts from interesting books (Moomin!), and lots of intriguing music.
Do you enjoy coming up with titles?
Sometimes I know the title the entire time, but others it's a struggle and I have to look through a dictionary or my iTunes playlist.
What's your favourite part of creating?
Sewing has always been a meditation for me. I came back to it at University when I was stressed and needed to do something completely different (ie not reading) and it has continued to be the thing that keeps my anxieties at bay, keeps me feeling peaceful.
What advice would you give to your emerging self?
Give yourself a break, little Cat! Things will happen. Life is short. Read more books.
How do you alleviate the down times?
I just keep making things! But I try to make them with no real plan or agenda – just experiment. I find it the most invigorating thing and it always leads to a good place. I have learned that the down times are nearly always fleeting and I try to enjoy them for what they are and the peace and quiet these times can provide – not get too distracted by those nagging little self doubt demons that niggle when you're down.
What defining moments have you experienced within your practice?
Being able to capture my pieces via photography has somehow made me more proud than anything – it used to be a constant frustration for me and I am slowly becoming better at it. I guess being able to record your work is important, and it can be a tricky thing for craft practitioners.
What is the most memorable exhibition or artwork you have seen and why?
I was studying in London for a couple of months when I was in my early 20's. I had no money, and wasn't very good at making new friends, but the galleries were all free and I visited them daily. I was at the Tate Britain and walked into the room with 'The Lady of Shalott' by John William Waterhouse and I had to have a sit down and was planted there for a good half an hour, just taking it in. It's huge, beautiful and so emotive. It also brought back memories of one of my favourite scenes from Anne of Green Gables where Anne recites Tennyson's poem of the same name and floats herself downstream, nearly
drowning (in a comical way). I went back to sit with the painting many times before I left London.
If you could ask any artist any question, what would it be?
I'm not sure if I have any particular questions, but I'd love to have a good old chat to Beatrix Potter about gardening and mushrooms.
What does the future hold for you?
I try not to look too far into the future. But I know the immediate future involves a cup of tea and a biscuit and that's good enough for me.