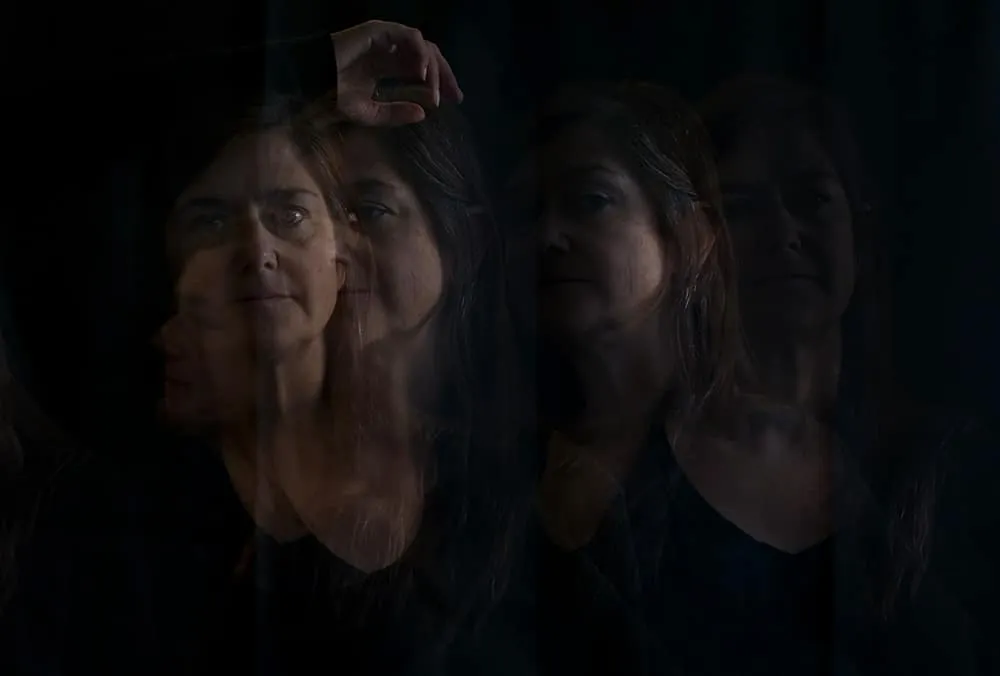 Emma Langridge uses line as an indication of surface, contour and continuity.  Line implies a uniformity – denoting an equal value along its length, like that used in cartography and meteorology.  Creating a striated surface allows for interference, through fracture and glitch.  If the line is a signal, the break in the line becomes noise.  It is this disruption which Emma investigates through her painting practice: creating the plane, only to break it apart, the fragments dissipating and coalescing into new and ambiguous forms.
Emma Langridge was born in the U.K. and moved at a young age to Perth, where she acquired a BFA.  Whilst there, she had her first solo exhibition and entered the Holmes á Court and Artbank collections as well as creating a wall painting for jacksue gallery (now destroyed).  Since relocating to Melbourne in 2001, Langridge has had numerous solo, group and collaborative shows.  She was twice shortlisted for the Metro Art Award (once with honourable mention in both categories), was included in the exhibition series and book 'Unfinished Journey', and recently completed a large commission for Citadines Hotel Group.
How do you describe your arts practice to others?
It depends on the person to whom I'm speaking, but generally I describe my practice as being meditative, slightly obsessive painting, based on the stripe motif, with a focus on glitch, fracture and disruption.
Do you have a preferred medium?
I always use enamel on acrylic paint on a timber support.  It is important to me that the materials are 'everyday' rather than specialised.
What attracts you to your subjects?
I don't have a subject per se, but I am absolutely dedicated to stripes and lines.
How do you begin new work?
I used to always draw in order to decide on a composition, but in recent years I have allowed the process to start directly on the support.  More often than not, I work from the middle out to the edges.
Do you see each body of work as a continuation of the previous series?
All of my work is connected in a long series by being based on the one motif, however lately, due to a return to study, I have been far more conscious of sustaining an idea beyond the purely visual aspects.  This is the theme of glitch and fracture.
Do you work with reference material?
No, however I take a lot of photographs of surfaces and objects encountered whilst walking.  These aren't the source material, however they have drawn my attention to aspects of the paintings which I have overlooked.  The two practices arise at once, in parallel.
Do you enjoy working intuitively or more consciously?
These days, intuition absolutely rules my decision making.
What's your favourite colour to work with, and why?
Currently, I am working with a hi-vis yellow-green and black binary.  This combination is associated with alarms and warnings, and has the tendency to look a little toxic, which is a recent interest.
Where do you create?
My studio is at home.  After having several separate studios, I have realised that having a space in my home is far more productive.  I find myself painting at all hours without having planned to.
Do you enjoy coming up with titles?
Titles always come last in my process.  I enjoy the challenge of finding a single word or phrase which has relevance to my thinking but is also ambiguous.  My favourite recently is 'Tocsin', which is a warning or alarm bell, but also the homonym for 'toxin'.
What's your favourite music to work to?
I enjoy the sounds of my surroundings, however I also listen to a lot of electronic music when working.  Autechre and Aphex Twin, Theo Parrish and numerous other Detroit producers, these are my mainstay.
What's your favourite part of creating?
The point where I lose track of time and become absolutely immersed in the repetitive process.
What advice would you give to your emerging self?
I would advise myself to take care when documenting work and be organised.  A stitch in time saves many a sleepless night fretting over lost and poorly documented paintings.
How do you alleviate the down times?
I try to visit my own exhibitions a few times after the opening night, showing friends the work and having discussions, seeing as many other exhibitions as I can, because it helps to realise I am not in a vacuum, and finally, starting a new painting!
What defining moments have you experienced within your practice?
In my undergraduate year, once I found my current methodology and preferred medium, I stopped trying to explain the work and – as unsettling as it was for my teachers – it was liberating.  Paradoxically, the other defining moment has been the PhD which I am currently completing, because it has taught me how to sustain an idea and to think more clearly about what I am doing.
What is the most memorable exhibition or artwork you have seen and why?
On my field research trip to the USA in 2016, I had the opportunity to see so many artists work in person.  The Sol Lewitt retrospective at MassMOCA, Agnes Martin at the Guggenheim and the installation of Richard Serra at Dia Beacon were perhaps the most memorable.  At Dia, it was a very dark and rainy day and the gallery does not turn on the lights.  Having to feel my way through Serra's monumental steel sculptures made me consider the scale and mass of the work.
If you could ask any artist any question, what would it be?
Not a specific question, but I would have loved to converse with Sol Lewitt.
What does the future hold for you?
Finishing my PhD is the priority and then I would very much like to simply paint, perhaps at a larger scale than usual.  I had intended to apply for residencies in South Korea and other countries, but for obvious reasons, this is on the back-burner.  I very much want to curate several exhibitions of artist-peers from around the world.  Finally, I would like to publish a book of photographs.