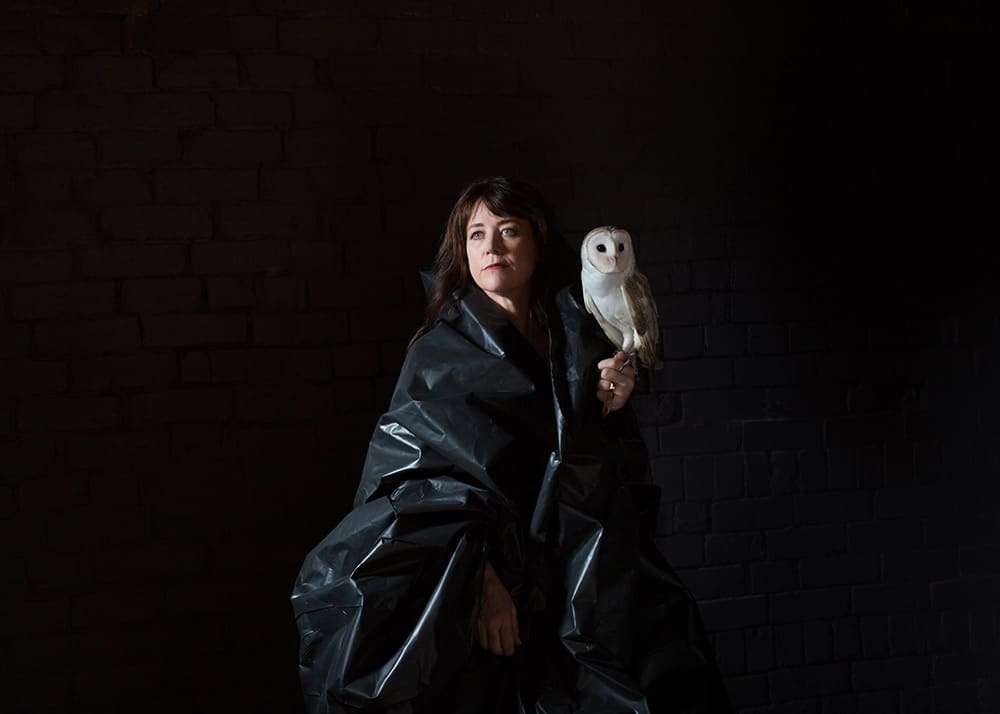 Erika Gofton is a Melbourne based artist and has a Bachelor of Fine Arts degree and Post Graduate Diploma of Education from the University of Tasmania. She has held solo exhibitions in Melbourne, Sydney and Queensland and has exhibited in numerous group and curated shows. In 2012 Erika won the Toyota Community Spirit Travel Grant and undertook a residency in New York at Point B Worklodge. Whilst in New York she received a scholarship to complete the Drawing Marathon at The New York Studio School.
Erika has been a finalist in numerous prizes including the Collie, Wyndam Art Prize, Adelaide Perry Prize for Drawing, Paul Guest Prize, EMSLA, Sunshine Coast Art Prize, Mosman Art Prize, R & M McGivern Prize. She's also been selected in the Redland Art Prize twice, three times in the City of Albany Art Prize, winning Peoples Choice in 2012, and Williamstown Contemporary Art Prize six times. Erika is represented by Dickerson Gallery in Sydney.
Erika is also the founder and Director of The Art Room, an art class, workshop and mentoring facility in Footscray, Melbourne.
Interview with Erika Gofton
How do you describe your work to others?
Not very well I'm afraid! I do struggle to describe it because I want it to defy verbal description. I really want my work to have an empathetic conversation with the with the viewer on a more visceral level. I am interested in the power an image has to communicate something beyond words and to act as a conduit or maybe even a translator between the artist and the viewer.
But I generally say that it essentially explores empathy, anxiety and contradiction. It is very personal work and really have grown out of my need to understand the intersubjective relationship of mother and child. I want the work to sit somewhat precariously between the light and the dark, the beautiful and the ugly, the conspicuous and the ambiguous. I like that it can be one thing at the same time that it is something else.
Do you have a preferred medium?
When I'm drawing I'm in my happy place! I love everything about it, from doodling to working on a more sustained resolved drawing. It makes me think and see more clearly and honestly. I love painting too but have a more complicated relationship with it. Painting always feels like more of a negotiation and sometimes an argument. One that sometimes I win and sometimes I don't. But l also love that about it, it feels like I constantly have to be ready to negotiate, to be on my toes.
Do you tend to work in series or do you see your body of work as a continuation?
I generally tend to work in series making works that have a conversation with each other rather than one work in isolation. There is a very clear thread that I have followed through my work from the last 10 years or so that has connected each body of work. As the work is about my own experiences, that conversation has evolved as my experiences have.
What attracts you to your subjects?
My subjects come from my personal experience and my desire to tease apart and understand the questions I have about those experiences. I have been working with images of children as my main subject for quite a while, not just purely as a way to connect to and understand the experience of motherhood but also as a subject that can have a strong connection and evoke a compelling response in the viewer. I have always been interested in creating a quiet tension within my work and using birds allowed me to connect to that tension, and also speak of instinct and fragility. In more recent times the plastic bags have given me a way to confront the tension in a more direct way and asks the question "what if?" without providing a conclusive answer.
What processes do you use to bring your ideas to life?
Initially I write a lot in my journal as it helps me to brain dump and get my ideas out of my head into a space that I can understand them and visualise them more clearly. I sometimes have trouble sleeping so a journal by my bed allows me to capture those ideas and thoughts that keep me awake. Once I feel I have a visual form for my ideas I will draw and take photos. Photography is an important part of my practice, it forms the more planned stage and initially gives a visual form to my ideas. Then the painting or drawing is my translation of that. Drawing is crucial in my process as it is my way of interrogating and understanding the subject.
Do you work intuitively or more consciously?
Both I think, and I think it shifts back and forth all the time. I certainly start by working more intuitively in the beginning when I am visualising the image that I want to create but then I have to be more conscious in the process itself. It then becomes more intuitive again as I make decisions through the material itself and what the work demands of me. The kind of decisions it needs me to make come back to intuitive ones.
What's your favourite colour to work with?
I love Payne's Grey, funnily, though I actually don't use it that much.
Where do you create?
I have a studio in Footscray that is within the Art school that I run. It is a separate space away from the main teaching space but I am always backwards and forwards between the two. I've had to be very strict that my studio is a very private space and is not accessible to the students as I need to be able to make work unselfconsciously.
Do you have a studio ritual to start the session?
I generally try to exercise early and then head for a coffee to a local café to tackle emails so that I can focus during the day without distraction… I try anyway! When I get into the studio I'll spend 10 minutes tidying up, I can't work in chaos, and then I'll get stuck in.
What's your favourite music to work to?
I actually don't listen to music very often in the studio. I either have complete silence or listen to podcasts, audio books or maybe Radio National. It kind of depends on where my head is at at the time. I do love a good true crime podcast!
Do you enjoy coming up with titles?
I have a love hate relationship with coming up with titles. I feel sad that I used a lot of my good titles years ago! I like titles to have a poetry to them and a bit of ambiguity.
What's your favourite part of creating?
I generally love the beginning of a work where it is about exploration and discovery, and then the end where it is about resolving and clarifying what I am trying to do and say. The middle always feels like a bit of a battle that I just put my head down and fight my way through.
What advice would you give to your emerging self?
Don't worry about what others think just make your most honest sincere work
Be critical but not judgmental
Take risks and don't be afraid to make lots of bad work
Find your people!
There is not one perfect example of an art's practice; they all vary artist to artist, if you can't or don't work in the studio every day because you have to make a living or raise a family that doesn't make you a lesser artist
You're in it for the long haul so just be patient
Have you ever worked with a mentor?
Not 'officially' but I have a few incredible women around me who have really inspired and challenged me as an artist and I really see them as my mentors, they make me want to work harder, take risks, be more generous and be a better artist.
How do you alleviate the down times?
Teach. I love teaching and I feel that it really helps me to reconcile those times, it allows me to keep making without the pressure of an end but also gives me an opportunity to get outside my own head.
What defining moments have you experienced within your practice?
Moving to Melbourne in 2000 definitely was really a pivotal point for me, to be in a new welcoming community of artists.
I did a residency in New York in 2013 which enabled me to really clarify what I wanted to make work about and gave me the confidence to take risks.
Then I think there are lots of other little moments. Conversations with artist friends that trigger an idea or a way of seeing something differently. When I teach I am constantly questioning how and why I do things, and seeing work that moves me.
What is the most memorable exhibition or artwork you have seen and why?
Oh wow, so many!!! I think drawings always have a huge impact on me because they feel almost egoless and perhaps an insight into a private moment with the artist. I saw Edward Hopper's drawings at the Whitney in 2013 which took my breath away which I was really not expecting, as did Kathe Kowoltz at the Brooklyn Museum, they brought me to tears. The Louise Bourgeois exhibition at Heide was incredibly powerful and clarifying for me.
Listen to the This Wild Song podcast featuring Erika Gofton: