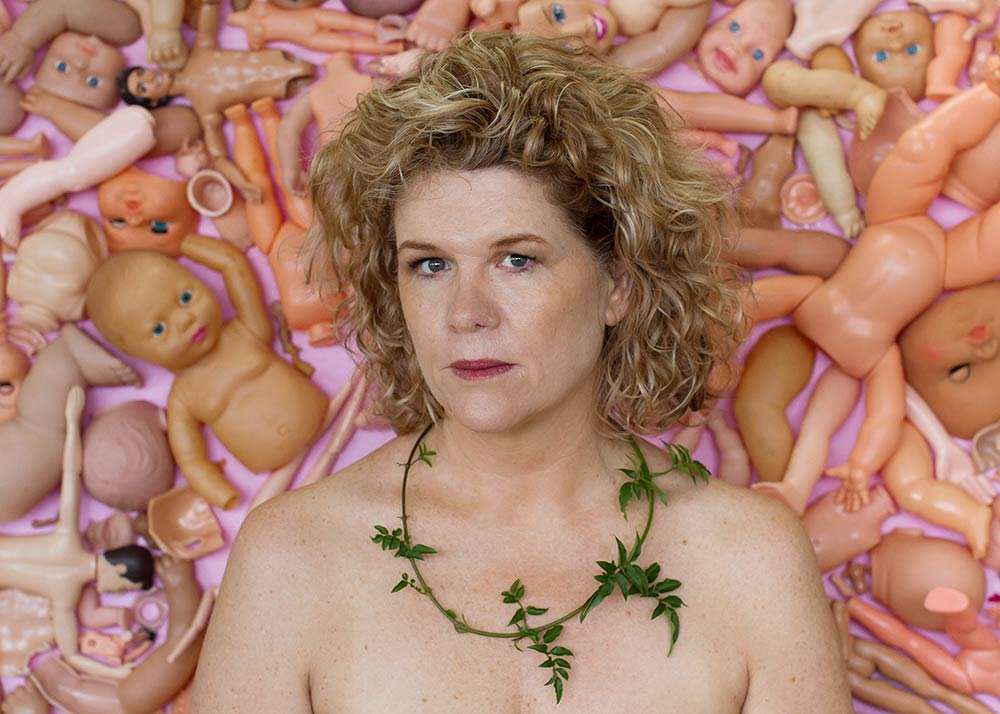 South African born, German Australian Sydney based contemporary artist Freya Jobbins' art practice includes; assemblage, collage, installation and printmaking. Better known for her plastic assemblages created from deconstructed dolls and plastic children's toys, Freya also creates larger site specific installations and sculptures.
A selected finalist in: the inaugural Tom Bass Prize for Figurative Sculpture 2016, PARAMOR Art & Innovation Prize 2015, highly commended at Hidden @ ROOKWOOD 2015, Woollahra Small Sculpture Prize finalist 2012 and 2014, Willoughby Sculpture Prize 2012, and Fishers Ghost Art Prize 2004-2015. Winner of Sculpture in the Vineyard 2014 and winner of the inaugural Clearwater Sculpture Prize 2015. Her work is featured in the Goulburn Regional Art Gallery Collection.
Exhibiting nationally and internationally in over 20 group shows and she has had four solo shows in Sydney and Melbourne. International group shows Tel-Aviv, Israel Toy Art & Design Exhibition l 2013, SHOETINGstar, 5 Sinne&Mehr, Klagenfurt in Austria 2015, prints in New York 2009 and RE: Semblance Redbull House of Art in Detroit. Commissions from USA, ABU DABI and Spain.
A series of Freya's masks were featured in TUSH, German Fashion magazine March 2016 issue.
Currently (2017) she has one of her assemblage works on display at the EXPLORATORIUM San Francisco.
Interview with Freya Jobbins
How do you describe your work to others?
I deconstruct and reconstruct children's toys in my assemblage works, I am literally a Plastic Surgeon.
Do you have a preferred medium?
My plastic assemblage practice, definitely, but I am also a keen printmaker, unfortunately there are not enough days in the week to currently do both. I would pick the assemblage work over printmaking right now as I think I enjoy going through all the second hand shops over prepping plates and soaking paper…………….But I do love to draw.
How do you begin new work?
Mentally, with anticipation and excitement, and this great idea, 95% of the time I do not struggle to start a work. Once I have a plan and have done a bit of research and writing I start hunting for the base if I do not have one in my studio. I mostly use old mannequins for the large life size assemblage works, for the smaller pieces I use masks and Styrofoam mannequins. I then do the prepping of the base, by sanding and painting. The base itself is always a recycled object as well..
I never start without a plan/idea, I only free range when I make my Wearable art creations. With the plastic portraits I am commissioned to do I work strictly from photographs in that situation.
Usually I have a few works going at the same time. Like at the moment I am finishing of a horse, using only Barbie hands and feet, as I need a lot of hands this project has taken nearly 4 months to complete due to the amount of Barbie hands I need. Then there is a series I am working on using masks and small toy soldiers, again supply and demand issues. Due to wanting to use only second hand materials I have to be patient. On the rarest occasion I purchase new toy soldiers so I can keep working.
Do you tend to work in series or do you see your body of work as a continuation?
Currently I have been working on a body of work that I started over 2 years ago, it is a continuation of one body of work which includes assemblages, woodcut prints, drawings and photographs called SOMEONES SON. That body of work, as I see it, will be a work in progress for a few more years as I feel I have a lot to say with that work.
Usually my works are individual pieces but they belong to series marked by when they were made.
What attracts you to your subjects?
Regarding my assemblages they are related to contemporary issues, but I put a Greek and Norse Mythological twist to it. For example when, responding to the 'Selfie', and contemporary society's self-adulation, I created CASSIOPEIA, who in Greek Mythology was punished by the Gods for being too vain, and she was turned into a constellation in the sky still looking at mirror, I linked the mirror to the mobile phone with my version of CASSIOPEIA. I have built a large Zeus who's more focused on where his brain is, to actually using it.
My subject varies quite a bit, it all depends on the materials I find in the second hand shops and to the materials I have collected over the years.
What processes do you use to bring your ideas to life?
Again depends on what group of toys I have collected so far and have in the studio. For example if I find I have a lot of Barbie heads I tend to create the next piece using all the Barbie faces as a 'skin' surface. Some ideas I have for the next piece is Idea led and I have to find all the toys that I need for that work and other times the process starts with the material that I have already collected.
The materials are important too. As the client who commissioned Darth Vader head, only wanted me to use Darth toys to complete the work, I had to source only Star Wars toy.
Also same thing with the BATMAN commission, both took over 12 months to complete.
What do you use as reference material?
Photographs and drawings. I research on the said subject, for example my DARTH VADER head, I had to have a lot of images of the him, as he is 3D. I need profile, frontal and rear images to work from for my sculptures.
Do you work intuitively or more consciously?
Both, I work consciously with assemblages as need to be symmetrical, and they must have the right piece in the right place. But within that process, when I am fully immersed in creating a face I can work intuitively, over the years I find I can find or cut the right piece in both size and shape to fit perfectly within the space required. Similar to a Mosaic artist it's the process of putting a puzzle together.
What's your favourite colour to work with?
Baby flesh tone.
Where do you create?
In my studio space downstairs, I share this with my laundry and my dog. So I can do my washing at the same time and keep my buddy company.
Do you have a studio ritual to start the session?
Yes, its nice and clean, desk is cleared and bin has been emptied (I do this when I finish for the day in the studio the day before, as I really don't like starting a day in a messy studio)
Lights on, load in the machine, desk lamp on and of course music. Timer so I get up and stretch……………go
What's your favourite music to work to?
All music is good to work to (just no classical thanks) I tend to have the radio on most of the time. Then I know what time it is too…………….
Do you enjoy coming up with titles?
Oh yes, I love a good pun, I enjoy giving my works names.
I can not cope with any work called 'Untitled' that just not goes with me.
Funny with my work, as soon as the eyes are in I am chatting with the work, so it needs a name and I usually have them named way before they are finished. Yes I get attached to my work, they have personalities.
What's your favourite part of creating?
I love getting 'hooked' on a work. I love the addiction for me to complete it. Then I am a bit lost when I have finished it I usually do not know what to do for a short time. A wee depression before the whole ritual starts again. Also the end result, watching people's responses to my works. From horrified, to confused to ecstatic, there is always a response, I love it when they walk away smiling to themselves.
What advice would you give to your emerging self?
Don't give your work away for peanuts.
Trades with other artists who's work you love is the only way you will ever afford to create your own art collection.
Not every 'opportunity' offered to you is 'great exposure'
Get a professional photographer to photograph your work.
Have a perfect artist statement
Have a decent biography
Don't get too disappointed that you do not know the right people.
Have you ever worked with a mentor?
Would love to have a mentor.
Not directly no, I have had support from more senior experienced artists but as I entered the art world at a mature age, I do not really fit in the box of young helpless artist.
How do you alleviate the down times?
Step right out of the studio, do some writing, see a heap of exhibitions, eat well, socialise, catch up on some books. Step back and re-access, clean out the studio properly, re arrange the studio and by that time I would be craving to do another work.
What defining moments have you experienced within your practice?
Admitting that there is a link with my assemblage works and reconstructing the humanoid face and my PTSD (Post Traumatic Stress Disorder). Rebuilding a face with other recycled parts, like my own plastic surgery on my face where they used my ears to rebuild my damaged nose. This constant need to justify aesthetics and how we judge visually, then the acceptance of my own reflection and the reasons why I do what I do.
What is the most memorable exhibition or artwork you have seen and why?
Ron Muek, survey exhibition in 2010 QAGOMA to die for. I was emotionally overwhelmed, the size the subjects the whole thing about Ron and his work…………………….it's ALL detail. Absolutely sticks in my memory.
If you could ask any artist any question, what would it be?
To Louise Nevelson: What is wrong with the truth?
What does the future hold for you?
Unknown like everybody else's I suppose. But I would like an input in it, some sort of direction of my fate, my future. I am always up to a challenge, my father always says that " everyday I need to do something different, something I have never done before" he is also the man who said I could do ANYTHING.
Most important to me is good health (I can always wish) and that I can keep sane by keeping on working as an artist in my little sanctuary.