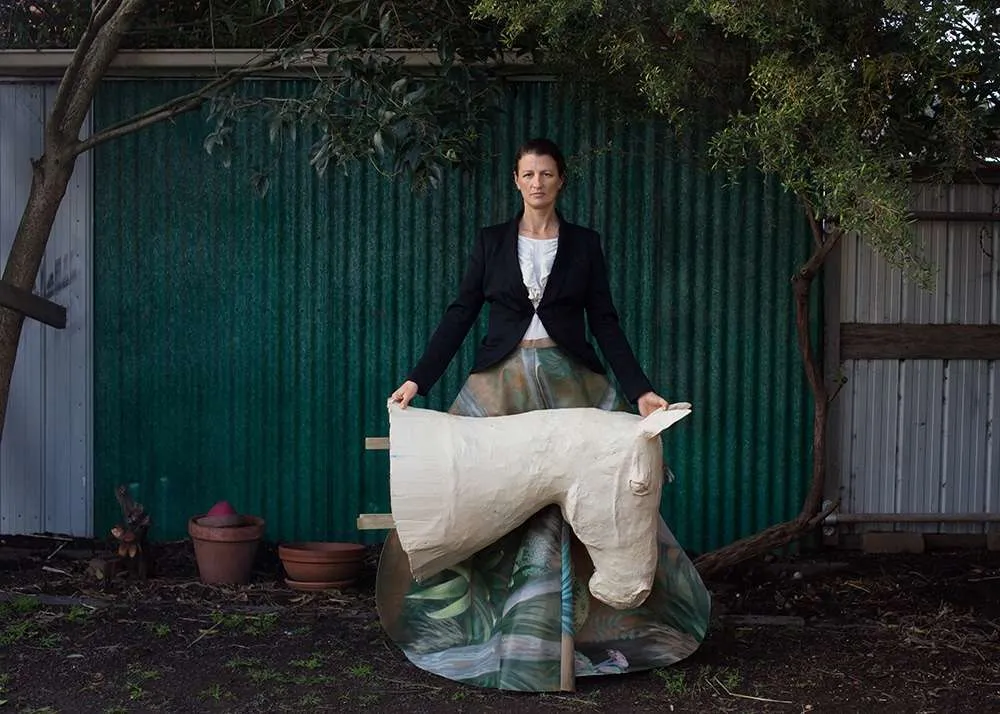 Jacqui Stockdale has been exhibiting globally since 2007. She is renowned for her humorous, magical and symbolic images that include theatrical portrait photography, painting, drawing and collage. Her practice engages cultural identity, folklore and the transformative nature of masquerade and ritual in society.
In 2016 Stockdale featured in the Adelaide Biennial of Australian Art, Magic Object, followed by a major survey exhibition at Benalla Art Gallery, Victoria.
International exhibitions include Living Rooms, at the Louvre Museum, Paris; All Masquerade!, Museum Villa Rot, Germany; Volta, Switzerland; and Wonderworks, Hong Kong. In 2012 Stockdale won the Moran Contemporary Photographic Prize.
Stockdale's work is held in permanent collections including the National Gallery of Australia, Newcastle Art Gallery, Albury Regional Gallery, Benalla Art Gallery, Tasmanian Museum and Art Gallery, Artbank and the Watermill Foundation Collection, USA.
Jacqui is represented by ThisIsNoFantasy + Dianne Tanzer Gallery, Melbourne
Jacqui Stockdale's artwork
Interview with Jacqui Stockdale
How do you describe your work to others?
I am most intrigued by the human subject and express this many ways; painting, collage, drawing and photographs. The photographs are based on an aesthetic that comes from classical portraiture and early photography where the subject is placed in front of a constructed setting. My photoshoots often involve a team of assistants. I make the hand painted sets and source costumes for the models. Lately I have included horses into my work.
Do you have a preferred medium?
Not really, I like to switch around depending on how I feel. The photographs take a lot of time to arrange so I free myself up with smaller, quicker works in between .The collages are my way of working through ideas, I like to see what comes up and the surreal nature of collage and placement of so many different elements is a glorious way to see what is going on at a deeper level. Another side line project that I have on the go is making drawings from life in my concertina sketchbooks, these become like a diary of everyday and keep me in the zone.
How do you begin new work?
I often start from a sketch, a collage or a great title. For a photo series, its down to logistics, so I work with a budget and a timeline, hunt for the right subjects, make and source props and costumes and keep checking in to make sure Im keeping focus.
Do you tend to work in series or do you see your body of work as a continuation?
I generally work in series, but it all seems to be part of a continuation, if that makes sense.
What attracts you to your subjects?
Oh, so many things, I work with my family members and friends quite a lot but Im always looking for new subjects. They can pop up anywhere. When I was doing the Ned Kelly inspired series, The Boho, I met a girl in a bar and said to her, 'you look like Ned Kelly's lover', she seemed to agree. I found another model leaning against a pole, he was 6'8 and had a beard and whimsical bight blue eyes, I asked him if he would wear a dress and be a cross dressing member of the Kelly gang for a photo, he said' sure' and that was that.
What processes do you use to bring your ideas to life?
Planning up to a point, then I let the ideas show me what to do next. I think it must be like writing characters for a book, they can often write themselves, and can make me feel uncomfortable.
What do you use as reference material?
I have a wall in my studio with lots of things stuck on it, it is my joy space, I keep adding and taking away. Its like a mood board, one could say. Also I trawl the internet for images and I am known for ripping pages out of books if I feel like I have to see the image over and over. Recently a pink velvet top I fund at a garage sale started mo off on a lovely new tangent.
Do you work intuitively or more consciously?
Both, and also practically. I have far more ideas than I am able to manifest in real life.
What's your favourite colour to work with?
Hmm, not sure about one colour. I like black and white collages.
Where do you create?
I was creating in Japan last month and out on a hike the month before, I do tram drawings, but I love my home studio, I have a bigger one in Fitzroy but its mainly for teaching and commission work.
Do you have a studio ritual to start the session?
Coffee and a tidy house.
What's your favourite music to work to?
I like working with the sounds around me. I only use music during photo shoots, to create a dramatic atmosphere.
Do you enjoy coming up with titles?
Yes, I love my titles, they are an important part of the work.
What's your favourite part of creating?
The part where you have gathered all your ideas, the materials and you are actually doing it. Most of creating is preparing and then getting it ready to show. I spend lots of time at the computer doing stuff like this and all the business involved. My gallery does a lot but there is so much to do.
What advice would you give to your emerging self?
Stay healthy so you can fulfil your visions. Get comfortable with sacrifices, art is a hungry beast. Be grateful that you are living in an environment that enables you to create. Work hard, play hard.
Have you ever worked with a mentor?
No, not physically but my mentors are the artists all around that are better than me.
How do you alleviate the down times?
I whinge to my partner and then get working on the next project.
What defining moments have you experienced within your practice?
Being part of a magnificent exhibition in Germany called Maskerade Alles, I felt like I had found my family. It does not happen much in Melbourne. Also, being part of the Adelaide Biennial in 2016 for Magic Object, I loved making work for that. The curator, Lisa Slade kept saying, 'bring it on' when I told her my ideas and that was so encouraging. I've had a pretty good past few years, things seem to be rolling along with a nice momentum.
What is the most memorable exhibition or artwork you have seen and why?
I must say I was taken by Del Kathryn Barton's show at the NGV, The Highway is a Disco. It was sexy and powerful and gave me a huge shot of adrenaline.
If you could ask any artist any question, what would it be?
Um, do you want to collaborate on something amazing?
What does the future hold for you?
A field of donkeys and horses wearing flowers between their ears