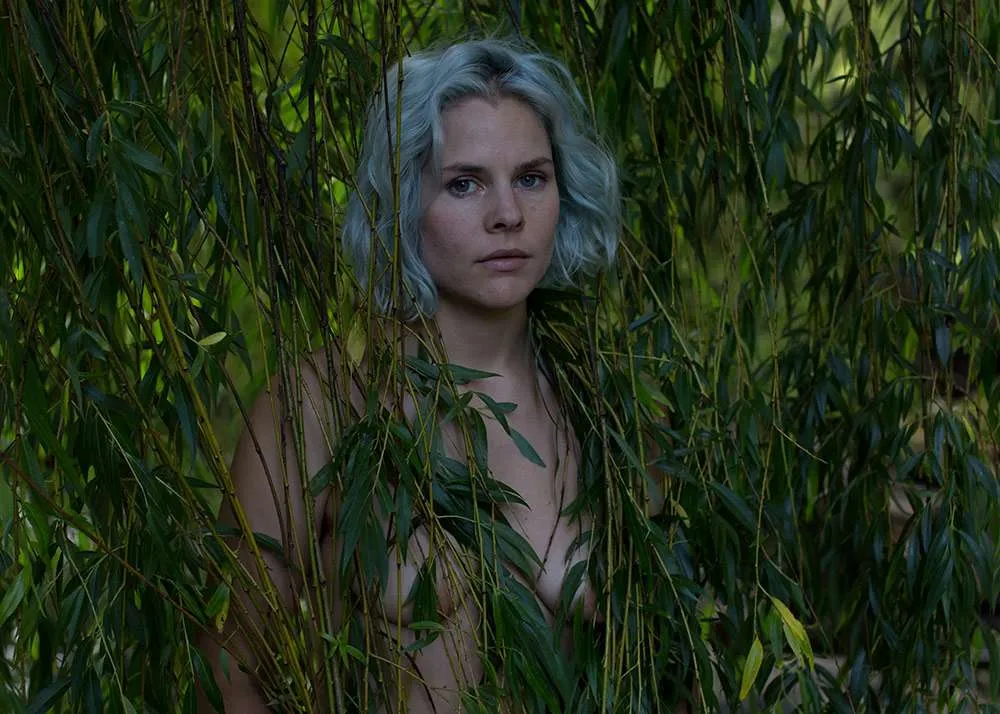 Jemila MacEwan, b. 1985 is an interdisciplinary artist living and working in New York.
Jemila was born in Scotland before emigrating to Australia with her family, and this sense of displacement has informed her work as a comfortable outsider. In her recent works, MacEwan inhabits the role of various forms of destruction within the natural world—meteorites, volcanoes, fault-lines and glaciers—as a way to reflect on what it means to be human in the age of the Holocene Extinction.
MacEwan is a frequent collaborator with other artists, film-makers, performers and dancers. Her work has been exhibited at The Australian Consulate-General (NYC), Pioneer Works (NYC), Victori+MO (NYC), BRIC Media (NYC), The Elizabeth Foundation for the Arts (NYC), Governors Island Art Fair (NYC), Skaftfell Center for Visual Art (Iceland), and the Gertrude Street Projection Festival (Australia).
How do you describe your work to others?
I usually say something along these lines…
My work seeks out an empathetic approach to humanities destructive habits. In recent works, I have mythologized various forms of destruction in the natural world­ – meteorites, volcanoes, and melting glaciers – as a way to make sense of the emotional pressures of being human in the age of the Holocene Extinction. By using sculpture and performance in intimate communication with the environment, I insert myself within the landscape, inhabiting the permeable boundary between culture and nature.
Though, it doesn't always sound like that when I say it out loud.
Do you have a preferred medium?
All the mediums I work in perform in different ways and each brings its own brilliant joy and painful challenges. Sculpture exhausts and satisfies me; painting heals me; performance transforms me to the core, and I am never the same afterwards.
Choosing a medium has never been decision I control. The work chooses the medium and sometimes that means working in a process that is totally unknown to me. For instance, I recently made 'The Wake' in Iceland, my first narrative film work. I had no idea when I went to Iceland that I would end up making a film, and maybe if I had known, I would have been much more concerned about doing it the right way. There's a common perception about how a film needs to be made: very expensive with many people and fancy equipment. As it was, I had to work within the limits I had – no crew, no special gear and no script. But I had a work insisting it needed to be made. The work told me what I needed to do, and in the end, I think that was the correct way to do it. I loved working in this process and I hope to make more films.
How do you begin new work?
Is there a more mysterious question? Do I begin the work or does the work begin me?
But the question is 'How?'
Hmmm…
I go to the place that the work needs to be made and play there while I wait for instructions.
Do you tend to work in series or do you see your body of work as a continuation?
I see all the work as continuous with my life as I try to understand what means to be human at any given moment in time. In that way, they are all one body. I have a few ongoing bodies of work, such as my paintings and geological ceramic sculptures, and I have a few bodies of sculpture work that I think of as families rather than series. I love when various works of mine that were created at different times and in different mediums are curated in conversation with one another – so much more is revealed. I would love to have a retrospective one day and see it all together.
What attracts you to your subjects?
I don't know what attracts me, but it always feels like a giddy, feverish love.
What processes do you use to bring your ideas to life?
With the greatest respect, I take a hard tool to the surface of reality and treat what I find inside with absolute tenderness.
What do you use as reference material?
I cultivate my practice through focused observation of everyday transformation: silence being interrupted on the subway, a cactus slowly growing toward the window, the smell of rotting seaweed, a worm responding to the warmth of my palm, a rock transforming at a rate too slow for me to perceive. In this practice of observation, I resist searching for meaning; the purpose is to nourish my intuitive imagination with felt sensations.
Do you work intuitively or more consciously?
Intuitively. I have spent years examining, cultivating and listening closely to my intuition. If I work too critically, the work is too harsh and anxious, and it suffers. If the work doesn't surprise me then frankly it's going to be boring. I've thought a lot about cultivating a harmonious relationship between my intuition and critical faculties. I respect them both but when it comes to the creation of the work, the critical mind is quietened. When I reach a stopping point in the work, the critical mind is invited to respond, and if a problem is identified that the critical mind does not solve, the problem goes back to my intuition. This conversation goes back and forth, night and day, until both critical mind and intuition are satisfied.
Where do you create?
Wherever I end up.
What's your favourite music to work to?
Depends on the kind of process:
Sculpting: Missy Elliot, Santigold, Erykah Badu, Robyn, Janelle Monae, Sudan Archives, Princess Nokia, Ween, Connan Mockasin, Still Woozy, Club Kuru, Metronomy, Lijadu Sisters, Bassekou Kouyate, Tinariwen, Lhasa.
Writing: Todd Terje, Four Tet, Darkside, Lindstrøm, Beethoven, Pantha Du Prince, Forest Swords.
Painting: Björk, Yamasuki Singers, Laurie Anderson and Eden Ahbez.
Do you enjoy coming up with titles?
If a work doesn't name itself then it's a struggle, but I try not to sweat it.
What's your favourite part of creating?
When I am deep in the middle of it. This is the only time I feel truly free. It's always important take a moment to remind myself to look around and feel the ecstasy of it, even if I have blisters on blisters, or I have been stoking a fire all night, or the work has collapsed and needs to be remade, or I am filthy, or freezing cold, or heart-broken, or in deep conflict. There is no freedom I know like being in the middle of it.
What advice would you give to your emerging self?
I've been given plenty of advice along the road, and I try to remind myself of it whenever I need it. These are not exact quotes but close enough:
Enjoy the process.
Follow the weirdest ideas.
If you are uninspired, you aren't paying attention.
Be without expectation.
Don't be so hard on yourself.
Celebrate the successes of your peers.
The lesson you are learning now is the lesson you need.
The question of 'What I am?" is never personal.
Leave loose ends.
What is being transformed?
Look for what is lacking in the world.
If you find yourself flinching, look again, and again, and you will find it there.
The work is not yours and it is not for you.
Work generously and you will be closer to the truth.
Have you ever worked with a mentor?
Yes. I think this is a really important part of an art education. When I moved to New York, I did a two-year mentorship with Janine Antoni, a hero to many female artists in my generation. It was a long mentorship and my role within the studio changed in the time as Janine moved between big projects. I absorbed so much in that time that I could never separate the artist I am now from what I learned under her mentorship. There is a natural friction that can occur within the mentorship dynamic, and it became important for me to go my own way and find my independent voice. This was not so easy to do, and it broke my heart a little.
Recently, I had a shorter mentorship with Jamaican performance artist Jodie Lynn-Kee-Chow which evolved into a more reciprocal and mutual friendship. I've also had important mentorship from peers, collaborators and senior artists beyond the formal arrangement of an official mentorship, which have had just as significant an impact on me as an artist. I think artists develop weird, intense and vital relationships that would seem abnormal to most people.
How do you alleviate the down times?
I've been very public about my own mental health challenges. The conversations that arose through opening up on social media put me in intimate conversation with artists and others who were also struggling.
This past year was difficult for most people I know, and I was sensitive to the collective struggle whilst enduring my own. I feel the heaviness of this moment in history. As artists, it is our duty to stay with the trouble. Sometimes I wonder if we might imagine ourselves as superhuman and forget the toll it takes to attend so closely to the damage. I recently held a panel discussion with some other deeply thoughtful creators on the topic of creative practice and mental health. It became evident that artists can have their own very specific forms of medicine that is part of their creative process. Artists who have this medicine can unexpectedly find themselves in the role of an unprofessionalised mental health worker. I've experienced this kind of creative care from other artists, and I've also provided it. My own work is driven by my need to transmute the most uncomfortable aspects of being human into a form that offers some relief.
To answer the question though, my main go-to methods include: meditation, somatic therapy, dancing at home, exercise, listening to calm and intelligent people, tending to plants, writing, having a bath, consulting the I-Ching, cooking, talking, sleeping, laughing, watching brilliant films, spending significant time in nature, listening to and helping others, staying home if I need to, deleting Instagram, reading. I think it's good to acknowledge that you need many strategies for dealing with all the challenges. I have accumulated many techniques and approaches for taking care of my mental health, and they have changed over the years depending on their efficacy. I have tried and rejected some approaches even though I know they work for others. I think taking care of one's mental health can be demanding work, but it can also be creative and experimental. What one needs is entirely individual.
What defining moments have you experienced within your practice?
Two performance works that defined my limits were 'Maiden Grass Voyage' (2013), which I performed in the months after moving to New York, and 'Human Meteorite' (2017). Both were physically arduous and highly vulnerable. I had no idea what to expect and because both performances were very public, I just had to trust they would work. I found people easily connected with these works, and although the labor in them was very heavy, the ideas they conveyed were weightless.
What is the most memorable exhibition or artwork you have seen and why?
Trisha Brown's Floor of the Forest (1970) at Documenta 12 comes to mind. I was entranced by it. I think it set my imagination to think about sculpture, performance and landscape as intertwined. I remember how spellbound I was by the performance, simultaneously thrilling me and easing my soul.
What does the future hold for you?
The present, and eventually the past.