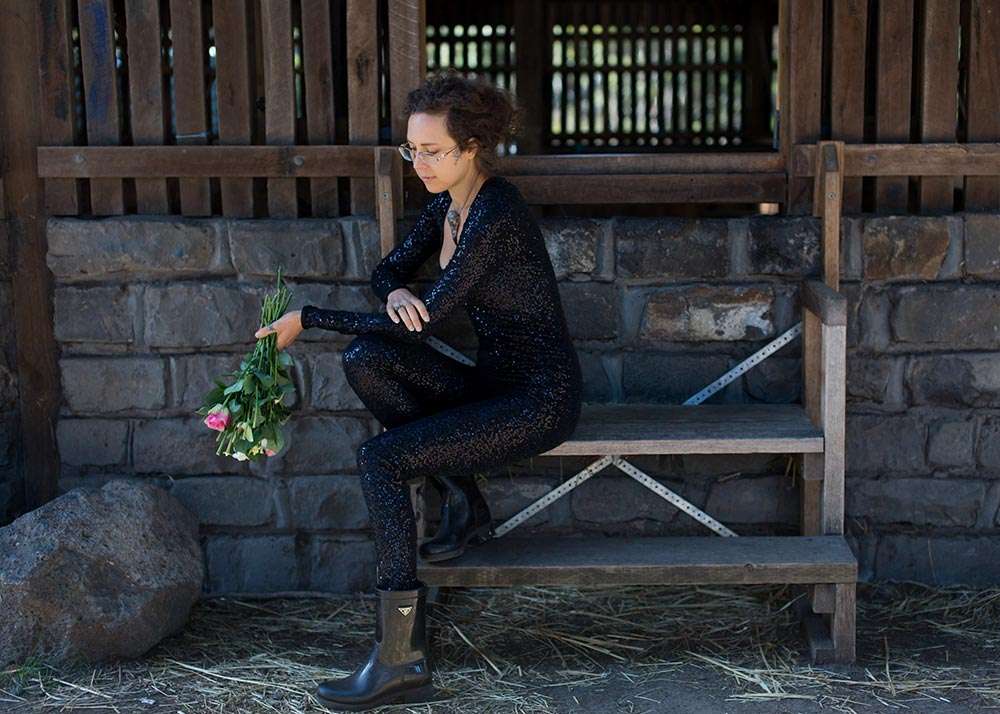 In the art of taxidermy gesture is paramount, hence for jeweller, taxidermist and vegan Julia deVille the most considered aspect of creation is composing her subjects to find a balance between pathos, humour and dignified realism.
Arriving in Australia from New Zealand on the cusp of adulthood, deVille trained as a jeweller and learned further crafting skills studying shoe design before her long hunt for a taxidermy mentorship was successful. Driven by a strong commitment to animal rights, deVille's sculptural assemblages belie the heroic, trophy-hunting culture associated with mounting dead animals. In a form of gentle protest she combines precious gems and metals with antique 'ready-mades' to challenge our disregard for and consumption of both wild and domesticated fauna.
[read more="Click to read full bio" less="Read Less"]
Drawing on Renaissance, Baroque and Victorian art and ideas, deVille creates contemporary 'memento mori' that raise our curiosity through the use of paradoxical processes and materials. While all deVille's creatures have died a natural death, they live on as beautiful and compelling allegories, begging a reflection on our symbiotic but decidedly unequal relationship with the animal world and our cavalier disregard for mortality in general.
Commissioned by Hobart's MONA to create a permanent installation in 2011, deVille also won the City of Hobart Art Prize in 2012 and the Woollahra Small Sculpture Prize in 2014. In 2006 her work was included in the MCA's important Primavera survey exhibition. DeVille's work was acquired by the National Gallery of Victoria in 2012. In 2013 she was featured in the National Gallery of Victoria's 'Melbourne Now' and in 2014, The Adelaide Biennial at the Art Gallery of South Australia – which resulted in the acquisition of deVille's 'Victorian Cat Mummy'. She exhibits regularly in Australia and overseas.[/read]
Interview with the artist
How do you describe your work to others?
I'm a taxidermist and a jeweller. I create precious jewellery as well as sculptures made from taxidermy animals and jewellery materials/techniques.
How do you begin new work?
I am constantly making new jewellery items. My sculptural works are made when I have an upcoming exhibition. The ideas just seem to come organically. I don't really plan.
Do you tend to work in series or do you see your body of work as a continuation?
My body of work is definitely a continuation. However, there are series/projects within the greater body of work.
What attracts you to your subjects?
Fragility and beauty.
What processes do you use to bring your ideas to life?
Again, this is very organic for me. I prefer to work as ideas come. When I'm in the throws of producing work for an exhibition, the ideas are almost unstoppable and come throughout the day and night.
What do you use as reference material?
The Memento Mori era of the 15th – 18th centuries, the Victorian era (specifically Victorian mourning jewellery), nature, life and death.
Do you work intuitively or more consciously?
Both – sometimes the meaning comes after a body of work has started and sometimes the concept is there first and the works grow from that.
Do you aim to create the finished piece exactly as you envisioned or enjoy allowing it to develop organically?
Just depends on the piece but generally I allow it to develop organically.
What's your favourite colour to work with?
Black in general. Sapphires and champagne diamonds for gems. White gold for metal.
Where do you create?
In the big warehouse studio below my residence.
Do you have a studio ritual to start the session?
I go to yoga most mornings at 6am, then I meditate for half an hour before my staff get in. This prepares me to spend the whole day in the studio working.
What's your favourite music to work to?
Nick Cave and nothing else!
Do you enjoy coming up with titles?
This is the cherry on top for me. I have a lot of fun naming pieces.
What's your favourite part of creating?
Having a block of several hours by myself to create without interruptions. This is pure heaven for me.
What advice would you give to your emerging self?
Don't work too hard. You have your whole life to work.
Have you ever worked with a mentor?
My taxidermy teacher Rudi was a mentor to me. He was retired but offered to teach me the art. He is an inspiration to me, both with his craft and his attitude to life. He has a real respect for animals and life – it was important for me to learn from someone with these principles.
How do you alleviate the down times?
For me, down times are generally burn-out from pushing to hard. These days I take myself on a holiday somewhere tropical and do nothing, alone. It helps me to recharge.
What defining moments have you experienced within your practice?
I think my immersive installations at the NGV (Degustation 2013) and AGSA (Phantasmagoria 2014) were highlights of my career. These shows have pushed me to go in a whole new direction. They took my current work to its full potential and now I need to try do new.
What is the most memorable artwork you have seen and why?
Marina Abramović's The Artist Is Present. I haven't actually seen the show live but the documentary blew me away. I cried three times. I think it is the most powerful artwork ever created.
If you could ask any artist any question, what would it be?
Nick Cave: Will you write a children's book with me?