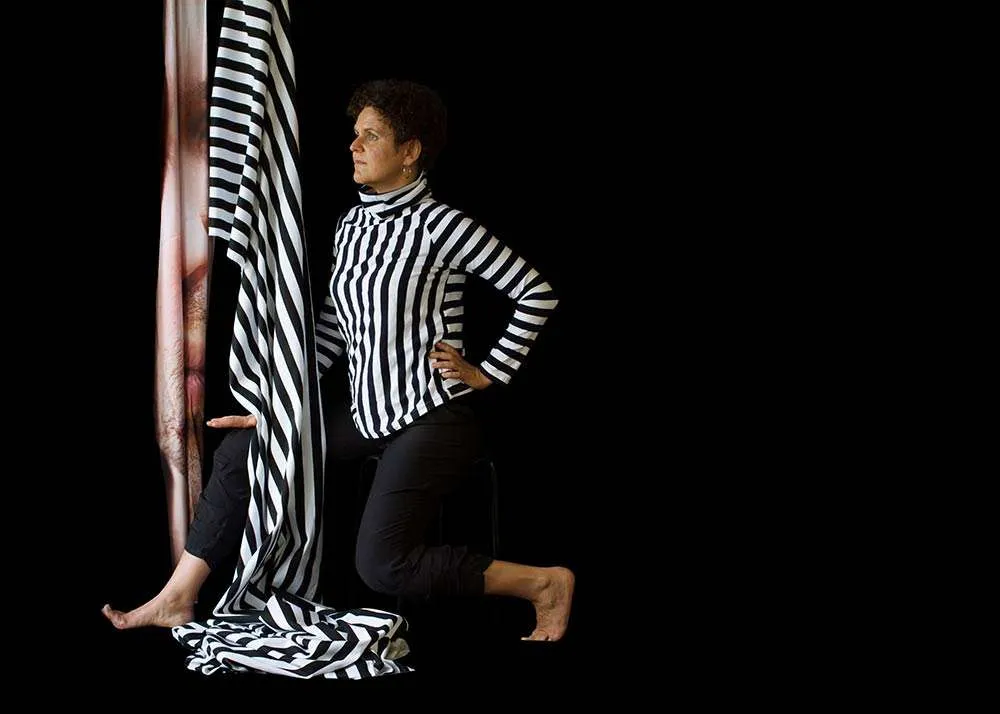 Justine Khamara graduated with a Bachelor of Fine Art (Honours) from the Victorian College of the Arts in 2003 and gained an MFA from the same institution in 2014. She is best known for her complex sculptural collages in which images, printed on various surfaces are arranged into fully three-dimensional structures as well as incorporated into drawings and collages that perhaps best understood as a deeply psychological response to contemporary life.
Interview with Justine Khamara
How do you begin new work?
I find that the important thing is to head to the studio and shut the door! I usually start rather inauspiciously with a studio clean up and this inevitably leads to me going over old work and discarded ideas. I need time to just noodle about uninterrupted, looking at things, drawing things, arranging things. At this stage the internet can be both a curse and a blessing; an endless resource, or just endlessly endless.
Starting something new means finding the right balance between doing and thinking, and really giving something the time it needs to emerge and develop. The beginning is always delicate, you don't want to force something into being but you also don't want to let things slip past because of a lack of focus. When something presents itself you want to be paying attention and not work right past it. This is always something I think I could do much better.
Do you tend to work in series or do you see your body of work as a continuation?
I see my body of work as a continuation of an exploration that weaves through and gets tangled with other aspects of my life.
What do you use as reference material?
I often start with a photograph of a family member, or a cut-out from a magazine. An image found online can sometimes spark a whole raft of ideas, but these are more starting points than reference material.
Do you work intuitively or more consciously?
I usually have a sense of a work at the beginning and this sense deepens as the work gets made. Meaning is a funny term when applied to artworks, to be sure, there are works one can 'read' and derive 'meaning' from, but often meaning with regards to artworks is a slippery thing. 'Meaning' can be what moves me when I look at an artwork or am making a work, a sense of a weightiness or presence, something that cannot easily be articulated into words or concepts.
Do you aim to create the finished piece exactly as you envisioned or enjoy allowing it to develop organically?
I have done both, sometimes things present themselves as a whole idea and I just make it. These last few weeks in the studio have been more 'organic' although too early to say whether this is actually a 'development'! I might yet cast it all aside to make something else that I have been thinking about while my hands were busy.
What's your favourite colour to work with?
At the moment, flat matt black.
Where do you create?
My studio at the moment is my garage at home. It is probably the nicest space I have had to work in. Glass doors look out over my little garden and for the first time since becoming an artist I am working in a space that has heating and cooling.
What's your favourite music to work to?
Mostly I find music a distraction because I just can't have it on in the background, it demands too much of my attention. I love working in silence, especially in the evening.
Do you enjoy coming up with titles?
I do! A good title can really open up a work.
What advice would you give to your emerging self?
Believe in yourself, it doesn't have to be so hard. It's a life long journey, not a short sprint to an imaginary finish line.
How do you alleviate the down times?
Anyone who knows me well will tell you that I can be a bit of a roller coaster. Having an art practice is a bit like what I imagine having a faith is like (and speaking to friends who practice a faith I can see there are similarities).
There are periods of crisis, of terrible doubt, of disillusionment. Loss of confidence in what I am doing is usually coupled with a loss of belief in what I am doing. I am fortunate in that I can immerse myself in the rich minutiae of family life and put the doubt and the down-time to one side. I find that helpful, to just put it all to one side and say I'll get back to you later when I have a bit more 'puff' and get on with the business of life. Life inevitably brings me back to art. Spending time with other artists is critical.