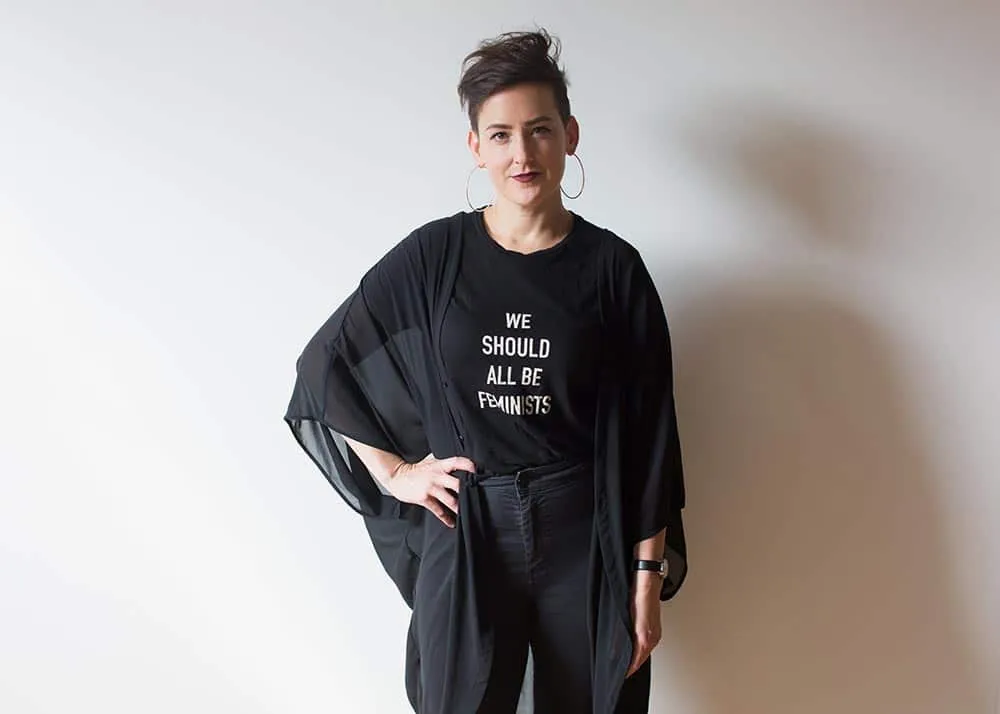 Kate Just is an American-born Australian visual artist.  Since 2003, Just has created an expansive body of visual art work in a diversity of media including knitting, resin, clay, collage and photo-media.  Central to her practice is the exploration of feminist representations of the body.  Just's use of knitting across many works casts craft as a highly engaging sculptural medium, a poetic or political tool. Just has also produced a number of socially engaged projects and public works about urban community, female representation and violence against women.
How do you describe your work to others?
I am a feminist artist, who, through my work with craft materials and techniques –  including knitting and sewing -, engages with art history, and contemporary issues pertaining to women. I usually work solo but also do create socially engaged projects that invite participants (mainly women) to create public art works with me.
Do you have a preferred medium?
I am most known for my sculptural and pictorial use of knitting in artworks. I enjoy working with thread but I wouldn't say it's my preferred medium. I also work with neon, photography, performance, sculpture/ceramics, and collage. My preferred medium is the one that most strongly suggests itself in relation to a specific work or idea.
How do you begin new work?
Ideas for new work always suggest themselves to me – usually on a long train journey, or while travelling, in the bath tub or while running. I find that it doesn't work for me to rush new work. When one body of work is complete, I find the next things I need to do are rest, read, look at art, clean out the studio and run a lot. The waiting can be a bit tough, but the creative body and mind needs to regenerate. When the new idea presents itself there is always a long period of to-ing and fro-ing on how to achieve it materially / technically, so I need to be in good shape for that.
Do you tend to work in series or do you see your body of work as a continuation?
I have worked for more than a year on projects that involve one piece or one sculpture (such as Boundary (LOVE) or Postscript (A Burial Suit)) and have also worked on series of a serial nature, like Feminist Fan. Ultimately, I do see my practice as being one very large body of work.
What attracts you to your subjects?
It is an innate process.
What do you use as reference material?
I use myself, my family, art history and contemporary imagery as reference material.
My earliest references were my own family and memories of childhood growing up in the USA – a knitted sculpture of my father as a police officer, of a giant knitted tree with the heads and hands of my family, a knitted corn field and a large knitted hedge which spells the word LOVE. Later works were almost solely inspired by Greek mythological tales of women – Daphne, Arachne and Persephone – as a means of investigating my own sexuality, and the idea of transformation and agency in one's own life. This reference re-emerged again in 2015 with my The Furies project, a public art project exploring the Greek Furies, as a metaphor for women's anger about violence against women. I also made work about the Venus of Willendorf, in a project re-imaging that point of female representation from a subjective position. Most recently though, my work has engaged with contemporary feminist art history, through my Feminist Fan series. I have spent three years paying homage to other feminist artists that have inspired me. The one thing all of these references provide is a starting point for autobiographical narrative. Through an engagement with these various (female) images and histories, I narrate my own life and my evolving relationship to both the past and present.
Do you work intuitively or more consciously?
I work both intuitively and consciously. I allow my work to emerge intuitively, but then through an ongoing process of consideration and analysis, I gain a consciousness about the work. I have never given birth (my child is adopted) but I consider making art like having a baby – you gestate (the idea), it emerges unknown to you, and through a process of physical and emotional investment and commitment, it becomes very known to you, and in the process, reveals something about yourself to you.
What's your favourite colour to work with?
I don't have a favourite color.
Where do you create?
Everywhere! But mostly in my studio in an old knitting factory in St Kilda.
Do you have a studio ritual to start the session?
No – I just walk in, put my bag down and get down to business! I am balancing my art practice now with full time teaching. I work odd hours both at work and in the studio, so I don't waste any time in any place – I just get straight into whatever I am doing.
What's your favourite music to work to?
I listen to audiobooks, stream Netflix (mostly legal or medical shows where I can listen rather than watch), and listen to podcasts and music. I always have some sound going in the headphones to block out the sound of other people in the studio and create a sense of solo space, which I need to concentrate.
Do you enjoy coming up with titles?
Not particularly! But I find they often evolve naturally out of the work itself.
Have you ever worked with a mentor?
Not in a formal sense, though many artists and academics have informally mentored me in invaluable ways, over the last seventeen years.
How do you alleviate the down times?
I forge a really heavy sense of resilience mostly – you need to. People see you getting great opportunities and think it is constant. I get a lot of rejection, like everyone. Some residencies or studio residencies – I applied to for eight or nine years running before I was successful. I saw a psychologist when I was a young artist, in my late twenties, suffering a lot with anxiety and sadness. I learned to meditate and processed an idea of internal rather than external growth and recognition that has stayed with me. I also find that being a parent and a head of a graduate program at VCA that I have a lot of demand upon me to help nurture others. In turn, I have become really good at nurturing myself in order to provide what is required. Time with friends and family, time in nature and travel, all help me sustain a bigger picture of life, within and beyond the art world.
What defining moments have you experienced within your practice?
Having a major institutional show at Kunsthalle Krems (Factory) in Austria 2011 and The Furies project on a Rupert Bunny Fellowship in 2014 gave me a strong sense of the scale I could work at when supported. The Feminist Fan project has provided access to international exhibition opportunities in Finland, the USA and The Netherlands, which has given me a sense of my practice's potential reach beyond Australia. Residencies in Japan, Barcelona, Austria, the UK, India, and soon China, open my mind and free my practice significantly.
What is the most memorable exhibition or artwork you have seen and why?
I never think in the singular – for me even if I'm looking at one thing, I'm interweaving it in my head with fifty other shows or works, creating points of connection. I also think that the most memorable artworks for me are often those made by my (graduate) students. There is something really incredibly touching about watching artists in the very earliest stages of their career come into fruition. The work is usually raw and cheaply made but somehow so invested in all the right ways.
If you could ask any artist any question, what would it be?
I'm currently reading 33 Artists in 3 Acts by Sarah Thornton and very much enjoying the questions she is asking of many artists.
What does the future hold for you?
This coming year, my work is featured in shows at the newly built ICA in Richmond, Virginia; at ACCA, RMIT project space and Chapter House Lane in Melbourne; at the Australian High Commission in Singapore with other This Wild Song artists; and Red Gate Gallery in Beijing as part of a residency. I'll still be working full time teaching, and making new work. That's enough to concentrate on for now!