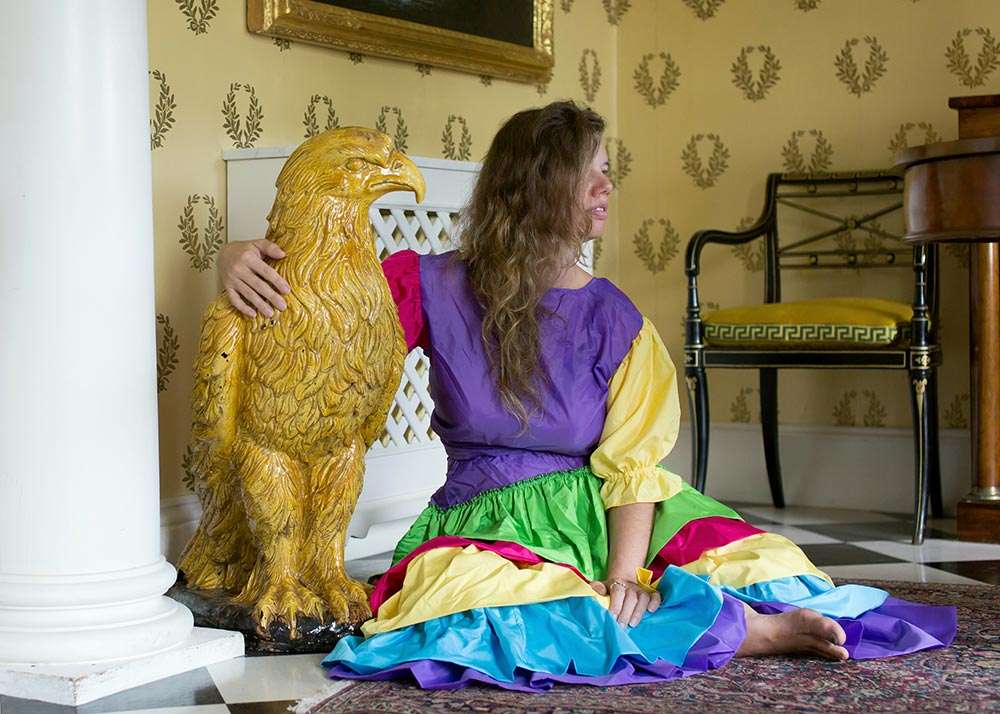 Kate Rohde's sculptures and installations reference 16th century 'wunderkammers' or cabinets of curiosity. Created using synthetic mass-produced materials they investigate the disposable nature of society, raising questions about contemporary values, excess and extinction.
Rohde's work has been exhibited in major institutional exhibitions, most recently the Adelaide Biennial 2016, and is held in collections including the National Gallery of Victoria, Heide Museum of Art, Powerhouse Museum and Art Gallery of South Australia.
Interview with Kate Rohde
How do you describe your work to others?
I generally sum it up as the natural history museum on acid, which neatly encapsulates it I think.
Do you have a preferred medium or use whatever is needed to express your ideas?
The last few years I've used a lot of resin, but in the past I've incorporated a lot of craft oriented materials into my work. I tend to use what's going to get the job done, but that said I definitely feel an affinity for certain materials more than others.
How do you begin new work?
I often do 'research' to begin with which is just looking at books, making notes and little, simple sketches. The hardest part is always getting started, and the nature of my work means there's often a bit of technical phaffing about, making frames or armatures in preparation for the sculpting, but it's a good momentum builder and helps to get things underway.
Do you tend to work in series or do you see your body of work as a continuation?
I would generally describe myself as a project based artist, I really work towards whatever the particular outcome is. That said I think there's a thread that continues from project to project, so if you look back over several bodies of work they will have a feeling of continuity. Often it takes a few shows to get certain ideas or directions out of my system.
What attracts you to your subjects?
I love the patterns and colours in nature, particularly really strong graphic patterns like leopard print and zebra stripe, and just the amazing variety of textures and shapes in the natural world.
What processes do you use to bring your ideas to life?
I do a lot of sculpting in plasticine these days, that's really the starting point in the resin casting process. It also ends up entailing a fair amount of time using power tools, and I also do a lot of building and assembly type stuff. I've gotten a lot better at it over the years through trial and error! I love the process of being in the making of work and the challenge of it.
What do you use as reference material, if any.
I use a lot of books as reference material, old National Geographics – which I have quite a collection of – old nature coffee table books or educational series. I like books of a particular era, around the 1960's-70's as the colours seem to be printed in an unreal super saturated way and they also often have beautiful painted illustrations which I love.
Are you conscious of the meaning of the work initially or do you work intuitively?
I work fairly intuitively, I think of my work as bringing into existence the objects my dream home would be filled with and that I'd want to live with. I feel the meaning is quite open ended for others interpretation. I know what it means to me but I leave it up to others to project onto it what they will.
Do you aim to create the finished piece exactly as you envisioned or enjoy allowing it to develop organically?
I work out a lot of stuff in the making process so I leave a fair amount of space for it to develop organically. I do a very rough simple sketch in the beginning to capture the gist of it and go from there.
What's your favourite colour to work with?
Aqua has always been my favourite, when I was little I'd always single it out in my pencil sets and it would be the shortest, most used pencil.
Where do you create?
I'm lucky to have a big warehouse studio space to work in, it's perfect as I need a lot of room to sprawl out and not be too precious about getting resin drips on the floor.
Do you have a studio ritual to start the session?
Not really, since having my son any time in the studio is precious, so I really get straight down to work. Before I go into the studio I mentally sort through what I'm up to so I know exactly where to begin.
What's your favourite music to work to?
I listen to podcasts rather than music, I have quite an extended roster of programs I like to listen to so I cycle through those as I work. My all time favourite is probably Conversations from ABC radio.
Do you enjoy coming up with titles?
Not really, I always end up calling my works something really boring and descriptive. I really admire people like Del Kathryn Barton and Dale Frank who come up with really poetic and crazy titles.
What's your favourite part of creating?
I really enjoy the plasticine sculpting the most as it's the most creative and challenging part of it.
What advice would you give to your emerging self?
Just keep going, but with a strong dose of realism that you may always need a part-time job.
Have you ever had a mentor?
When I was a teenager my family became friendly with a couple who lived on the same street as us. Jo had done both a design and fine art degree so I looked to her for advice on art and art school. Another art school friend of hers also was very helpful, and both of them took me to a number of contemporary art exhibitions which really helped a lot when I was interviewing to get accepted into courses at the end of high school. Just knowing a little about the local galleries and artists was very good and being able to talk to someone about art, as my family was very removed from that world.
How do you alleviate the down times?
I think the best thing to do is just keep working, even if it feels very unproductive, it's better to do something rather than nothing. I often tidy or reorganise my studio at these times as it seems to help to mentally prepare to start a new body of work.
What defining moments have you experienced within your practice?
Deciding to do a fine art degree rather than design degree when I finished high school.
My first interstate exhibition after finishing uni which lead to my first show in a commercial gallery. It was a very small piece in a group show but it set in motion a chain of events that really helped get off that first rung of the art world ladder.
Being selected for Melbourne Now in the design rather than art section – it felt a bit strange as I never felt like I was a design person, but it opened up some new doors for me and lead to several new opportunities. It made me realise my practice could be really fluid and move between art, craft and design really comfortably.