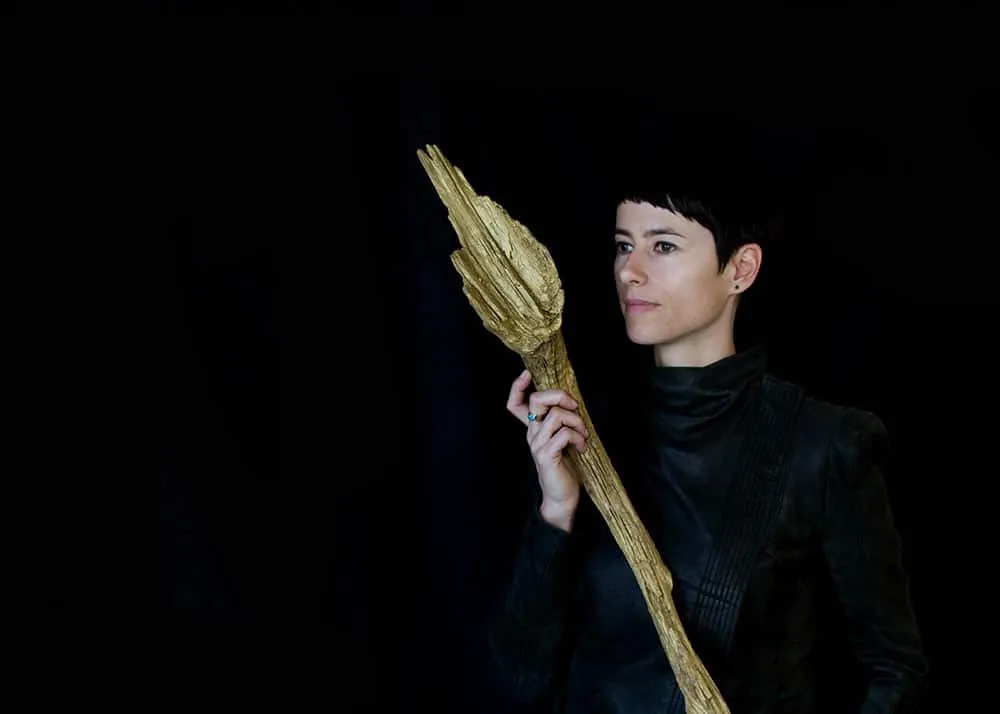 Kirstin Berg creates immersive environments by combining large scale works on paper/canvas and by sculpting unconventional materials such as fire ash, bush debris and hard rubbish. Her work revolves around her concern for environmental and human crisis and the redemption found in transforming our losses.
Kirstin has exhibited extensively in Australia and internationally with her work being held in major collections such as the NGV, Parliament House Art Collection (Canberra), Artbank and private collections in Australia, Europe and the USA. She currently lives and works between Melbourne and Berlin and is represented by Gallerysmith in Melbourne.
Interview with Kirstin Berg
Do you have a preferred medium?
For many years I worked only with paper and mixed media including fire ash, watercolour, India Ink and spray paint. Now I am working with a much broader range of materials including bush debris, hard rubbish/wood, canvas, fabric and I'm moving into cast metals. I love the idea of gleaning materials from the world around me. I love spending a fortune on the best quality materials and combining them with something found on the street. I love the contradiction of being super thrifty and completely excessive.
How do you begin new work?
I ruthlessly clean my studio before beginning new work. It's a ritual I call 'whiteout'. I don't want anything around me from the previous show for example. Each body of work is a chapter with a defining beginning and end. The new work will be a continuation of ideas but will be distinct from what came before it. I have to have space for that. Once its cleared, I start to fill it up again with a lot of sketching, experimentation, reading and writing. The aim is to stay loose. Things start to buzz when the 'whiteout' turns into what could be described as a demolition zone. It's from this self- imposed chaos that the new work originates.
What do you use as reference material?
My life. Nature. Memory. Emotion. Architecture.
Do you work intuitively or more consciously?
Both. In the the early stages, I'm highly practical and concise about an idea, what materials I want to use, what it may look and feel like, what it will cost me to make and so on. It's all planned and organised. As I move into creation, obstacles appear, I get derailed, or I discover something better than my original idea for example. There is always an underlying structure to what I am working on and what I hope to achieve, but after a certain point I rely heavily on intuition, and by working with and against the material possibilities and limitations of the medium I'm involved with.
What's your favourite colour to work with?
I've always been completely in love with black. I continue to use it in both my works on paper and sculptures. Black is the most powerful of all. It encompasses all colour and it gives a sense of totality. Everything is contained within black, yet it is also a void containing nothing; it is peaceful and devastating at the same time. I am currently also working with gold, white and cobalt blue. I work with colours that can exaggerate and/or complete the emotional quality of the work and that give a sense of grandeur.
Do you have a studio ritual to start the session?
I always change out of my clothes and put on my studio gear. As soon as I'm changed, I'm ready for work.
Do you enjoy coming up with titles?
Titles can transform a work completely. I love the process. I often come up with titles very early on and it's the title that helps resolve the work. I rarely name anything post completion.
What's your favourite part of creating?
The first glimmer of an idea for a new work. It starts as a very faint spark that I can't fully see yet, but it gradually starts to consume me and compel me to realise it. I love the potential and excitement in something not yet known; of not knowing exactly how it will manifest itself, and the anticipation of following it through.
What advice would you give to your emerging self?
Don't wait. Don't wait for permission or acceptance or even money. If you fully believe in an idea or project and fully back yourself, you will find unexpected ways of making it a reality. Time is the most valuable asset an artist can have. Minimise distractions and don't waste time and energy on things that are not important to you or your art. If you commit wholly, life has an extraordinary way of providing you with what you need.
Have you ever worked with a mentor?
Not officially, but I did share a studio space with Bjarne Melgaard (Norway) for 6 months when I lived in Barcelona which had a significant impact on me. He taught me that art (and being an artist) is about creating your own universe. The artist universe operates and revolves around its own unique logic, rules and systems.
How do you alleviate the down times?
The trick is not to alleviate, but consciously use them. All my so called failures, disappointments, slow times and lack of vision / motivation have been hugely beneficial to my art and life. Despite being uncomfortable or even excruciating, they have been lucrative periods of reflection and realignment. Eventually I am provided with new energy, commitment and focus. Accepting these periods as completely natural is the way to remain fluid and keep moving. "Down times" are not separate to creation for me. Some of the best stuff comes just after you've been at your wits end, absolutely terrified or just plain dejected! So called 'comfort' is overrated and can be debilitating to any person. Most artists I know have the ability to rise from the ashes again and again. This ability is a gift.
What defining moments have you experienced within your practice?
It would have to be my first trip to Europe in 2003. The art, the architecture, the history, it literally blew my mind! I instantly found an artistic lineage for myself; the way I think and live and work. Living in Europe for 6 years (2003-2009) and living now between Melbourne and Berlin continues to be defining for me as it constantly challenges and provokes and destabilises. I need this movement to live and work.
What is the most memorable exhibition or artwork you have seen and why?
I love retrospectives. I love to see the output of an artist over the course of a lifetime and to see the visual evidence of the persistence and rigour behind such an output.
In 2005, I was living in Berlin and at a real low point in my life. I remember dragging myself to Martin Gropius Bau to see a retrospective of the great German artist Gunther Uecker which coincided with his 75th birthday. I went in there feeling defeated and came out 4 hours later, completely transformed. The work was intensely haunting, courageous and moving. His work reflected not only his own life, but the history, pain and redemption of Germany and the exquisite struggles of being human. I thought to myself: I want my work to do that. I want people to be changed somehow after seeing it.