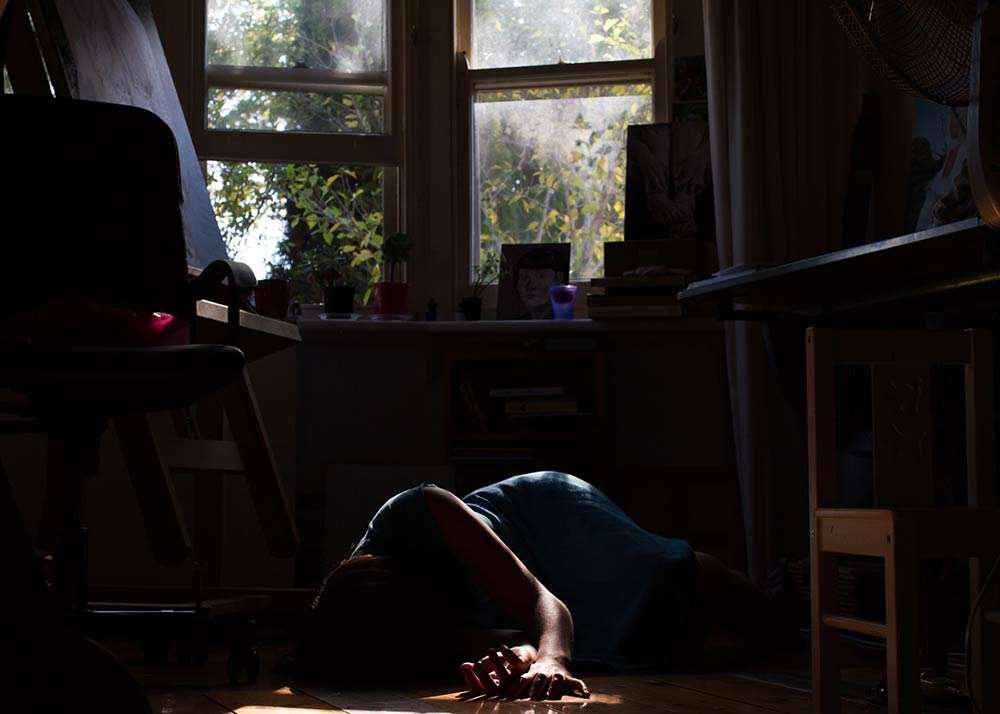 Lily Mae Martin is a visual artist born in Melbourne. She graduated from VCA in 2008 with a BFA in Drawing. She was awarded the Lionel Gell travelling scholarship and went to Berlin, where she spent a number of years refining her technical practice. Since returning to Australia, her work has been widely exhibited and highly commended in a number of prizes. Her recent exhibitions include Drawing, all the time (solo, 2016), Ararat Regional Art Gallery, Victoria, and New Drawings (2016), Scott Livesey Galleries, Melbourne. She was a finalist for the 2016 Rick Amor Drawing Prize, Art Gallery of Ballarat; winner of the 2016 Ursula Hoff Institute Emerging Artist Acquisitive Art Award in the National Works on Paper exhibition, Mornington Peninsula Regional Gallery; and shortlisted for the 2016 Paul Guest Drawing Prize, Bendigo Art Gallery.
Lily Mae's distinctive style is influenced by the mark-making of etching and the layering techniques of master painters, and characterised by delicate and detailed cross-hatching with a fine pen. She is represented by Scott Livesey Galleries, Armadale, and currently resides in Regional Victoria.
How do you describe your work to others?
I'm a visual artist – I mainly draw and paint. I'm mostly focused on figurative work and in the recent past have been quite focused on the technical side of draughtsmanship and now I am working on the conceptual aspect of my practice.
Very soon I am about to have more time than I have in many years and I look forward to challenging myself more and making larger art works.
Do you have a preferred medium?
I love to draw and paint and they are both my great loves; for similar and different reasons.
How do you begin new work?
I have to begin new works by just getting out in the world and following a 'feeling' or an interest and photograph and sketch and write and explore with my hands. If I sit and write about ideas, then they are sort of realised to me in a piece of writing and that can tend to detract from the work. So the exploration is also a balancing act!
Also, I must add, that I truly haven't had the time and space that I want/need for a long time. So a lot of things are done because of the restrictions that I face. For example; I am so interested in people and social history, so I do portraits. But I'd like to deconstruct that, push the boundaries of those things and I will – sooooon.
Do you tend to work in series or do you see your body of work as a continuation?
I approach things as a single project or piece but as time goes on I do see it as a continual exploration.
What attracts you to your subjects?
I either know them or am familiar with their work and am intrigued by them.
I've also used a lot of myself within my works as I felt if I had used someone else it'd mean something else. Also, in doing this – I have a large body of work now that I can show models and have a conversation about what it is I am after within my work and so that is very clear. I'm pretty lucky to be finding so many great people who are understanding and willing.
What processes do you use to bring your ideas to life?
Photography and sketching. Sketching ideas is a natural go to whereas photography is the first medium I ever had any sort of official training in.
Do you use as reference material?
I use a lot of photography but I also do a lot of life and observational drawing to make my work less 'image to image'.
Drawing in all different ways and styles has really informed my final pieces. I can't stress to artists – no matter what the medium and no matter what their level – drawing is a way of planning and fleshing ideas out that will benefit your work in ways I cannot even begin to describe in words!
Do you work intuitively or more consciously?
I prefer not to think too much about the meaning of my work, as much as that is require for various degrees and especially with writing grants, I like to keep an element of mystery going in my mind so I feel like I am exploring the meaning while I make the work.
It is different for every artist – as it should be – but if I work out everything about the meaning and concepts of my work it looses the element of exploration for me, I need that longing to explore to motivate me to make the work!
Do you aim to create the finished piece exactly as you envisioned or enjoy allowing it to develop organically?
I have a pretty solid idea of what I want but am experienced enough to know that that is not how it goes. I mean, sometimes it does, but that is the exception!
What's your favourite colour to work with?
Drawing, black ink. Painting – rose madder!
Where do you create?
In my home, it is not how I wanted things to be, but it is what it is.
Do you have a studio ritual to start the session?
Nope! I do not have that luxury – if I get some time I get to work or I don't get to make work.
What's your favourite music to work to?
Ted Talks, poetry and podcasts but generally I don't want to listen to anything. Maybe if I had more time to set the tone my answer would be different!
Do you enjoy coming up with titles?
NO NO NO – WORST PART OF THE JOB.
What's your favourite part of creating?
When I am in the thick of a work and all there is is the ink or the paint and me pushing away at it. I love that. It is otherworldly.
What advice would you give to your emerging self?
Do what your interested in, not what everyone else is doing – and just make work. ('Make' includes research and sketches and planning, etc)
Have you ever worked with a mentor?
I did a mentorship with Laura Woodard and Jacqui Stockdale when I was about 20. Now, I had had a really rough time up until then, so I think I was a little haphazard at that time, but it planted so many seeds that I have drawn on time and time again. They are both very different artists as well, which I think worked as well. There is something to learn from everyone, even if their practice is nothing like yours of the one you want to make. And I loved it, I love those two artists so it was a complete honour.
How do you alleviate the down times?
Hm, I don't want to say! I am still not handling those periods with any reminisce of grace.. Sorry!
What defining moments have you experienced within your practice?
Good question! When I was about 21 I realised I wanted to be an artist, that was ground breaking. But I think it's just in the every day or every year I continue on with making my work.
What is the most memorable exhibition you have seen and why?
SALLY MANN in London, 2010 because she is an all time favourite artist of mine. I have done a lot of photography in my time but it isn't something I ever identified as – it's more about her concepts and subjects and she is just one of the greatest living artists.
Listen to the This Wild Song podcast featuring Lily Mae Martin: