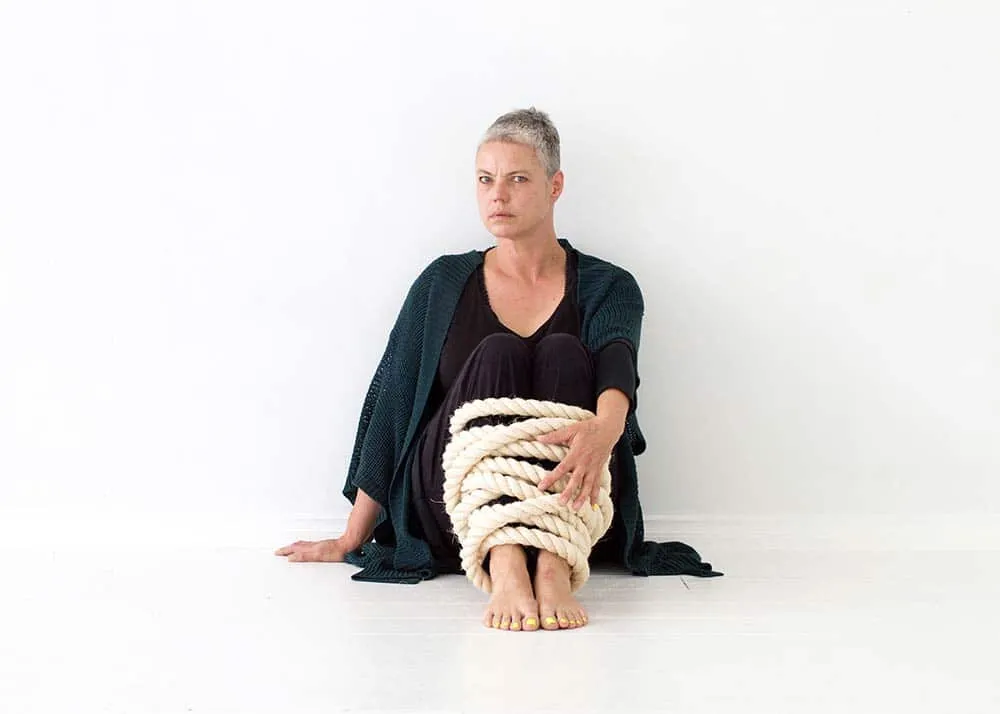 Marise Maas is a Dutch born, Melbourne based artist. Her work deals with making the 'unimportant' important, by looking at the smaller details to find the bigger stories.
Marise has exhibited extensively since 1991 and her work is held in many collections including National Gallery of Australia, ArtBank, National Australia Bank and various private collections. She is represented by Flinders Lane Gallery.
How do you describe your work to others?
That I paint figuratively but not realistically. I'm inspired by the ordinary.
Horses are featured heavily at times because I've always loved them. I seem to use the horses as stand-ins for people when depicting scenarios from the everyday.
Do you have a preferred medium?
I like paint a lot but actually I like everything that can make a mark. I don't mind painting on anything but oil paint on canvas has been the preferred medium.
Printmaking was my first medium of choice, but these days I only do stints of etching besides painting. However, very recently I've started screen printing again.
How do you begin new work?
Without planning too much, it's a matter of preparing as many canvasses that'll fit in the studio and then not trying to overanalyse it and just start. It begins in a meditative manner, which works for me, because it lets the first bit of the painting be spontaneous and then it's easy to start seeing things and ideas into it.
Paintings start coming together as a body of work because I tend to work on 8 or 10 at the same time.. this also prevents me from overworking them because I'm going from one to the other and back, it becomes a story in my head.
Oil paint is a bit slow and that's another reason to have a number of paintings going on at the same time.
Do you tend to work in series or do you see your body of work as a continuation?
It is hopefully a constant evolving continuation. But it's helpful to get some structure from deadlines for projects. So I can see it as different projects somewhat. The ideas and inspiration do not necessarily change from show to show though.
What attracts you to your subjects?
The subject matter usually comes from the small world around me and everyday scenarios. Sometimes the unremarkable becomes very remarkable once you start having a closer look. There are a lot of banal situations that are interesting to me.
What processes do you use to bring your ideas to life?
Best for me to not overthink it at first, it's jus a matter of trying to forget yourself for some of it, ideas will come if you start. There's a lot to be said for a certain kind of nothingness or boredom too, that allows for ideas to filter through. I like to walk before I work, because it gets rid of anxious and worrying thoughts. I like working in solitude.
What do you use as reference material?
I do jot down things that fascinate me, sometimes drawings of things I've seen or snippets of overheard conversations. I also like to look at other people's art.
Do you work intuitively or more consciously?
I try not to look for deep meaning in the work as I'm struggling or enjoying the paint. But even though it starts on this somewhat subconscious level, I'll always look for what's it about when I try and finalise the painting.
I do like it to have some kind of story to it. But I'm not aiming for profound meaning or to be academic about it.
Do you aim to create the finished piece exactly as you envisioned or enjoy allowing it to develop organically?
No it's not possible to envision the outcome in the beginning because of the way I work. The painting will take you in the direction of an idea anyway. This way of working also allows the freedom to make use of unexpected mistakes. Accidents that can sometimes become the best part of the painting.
What's your favourite colour to work with?
White and black. But can't help mixing colours with it! It's a challenge to limit colours I think. My challenge is always to try and get back to more black and white.
Where do you create?
From a home based studio. Since our youngest son Fred was born I decided to try and work from home again after many years in studio spaces elsewhere in the city.
I needed to be able to work more at night in order to juggle it with motherhood. My partner Steve works as a musician so is often away at nights, this way I could be home and keep working too. The studio space is separate from the house because I don't like to mix the space with household life. I like being in there alone.
Do you have a studio ritual to start the session?
I begin by sitting there looking at it all on the walls. It depends on the day how quick I'll start working, sometimes I waste time reading all the news or going outside to get something and getting sidetracked and end up gardening for hours. So the ritual is all about getting in there and starting. There can be procrastination. Once I start I'm into it though.
What's your favourite music to work to?
That's rather varied. I go through stages of falling in love with an album and then play it to death. This is peppered with many hours of radio listening in between plus podcasts and occasionally spoken books too.
Do you enjoy coming up with titles?
Yes I do. I like words.
What's your favourite part of creating?
When you get into a flow of it all and the possibilities seem endless. That's a good place to be, almost too much sometimes when you start working too fast and impatiently because there's so much you want to do. But some of the process can be tedious too. Another good part about creating is that you feel really lucky that you're given time in life to do it!
What advice would you give to your emerging self?
Don't party so hard all the time! Maybe I could have been a bit more ambitious in the earlier years… but a lot of traveling as a young person I would still recommend as a good thing.
I would also advice that everybody is probably wondering what the hell they're doing, so therefore not to worry too much.
Plus don't only talk about it, do it.
Have you ever worked with a mentor?
Not as such, but many people who have influenced me greatly. I've learned a lot from other artists, also from artists I've admired from afar.
How do you alleviate the down times?
Reading novels, gardening, painting the house inside or out, walking or going on a holiday.
What defining moments have you experienced within your practice?
It's more the little discoveries as time goes on. There's a lot of possibilities in mark making, so it's more about the learning curve and discovering that you're getting more control of it as time goes on.
What is the most memorable exhibition you have seen and why?
My most memorable was seeing Susan Rothenberg's paintings with my own eyes in New York. I could t stop looking it blew my mind I loved it so much.