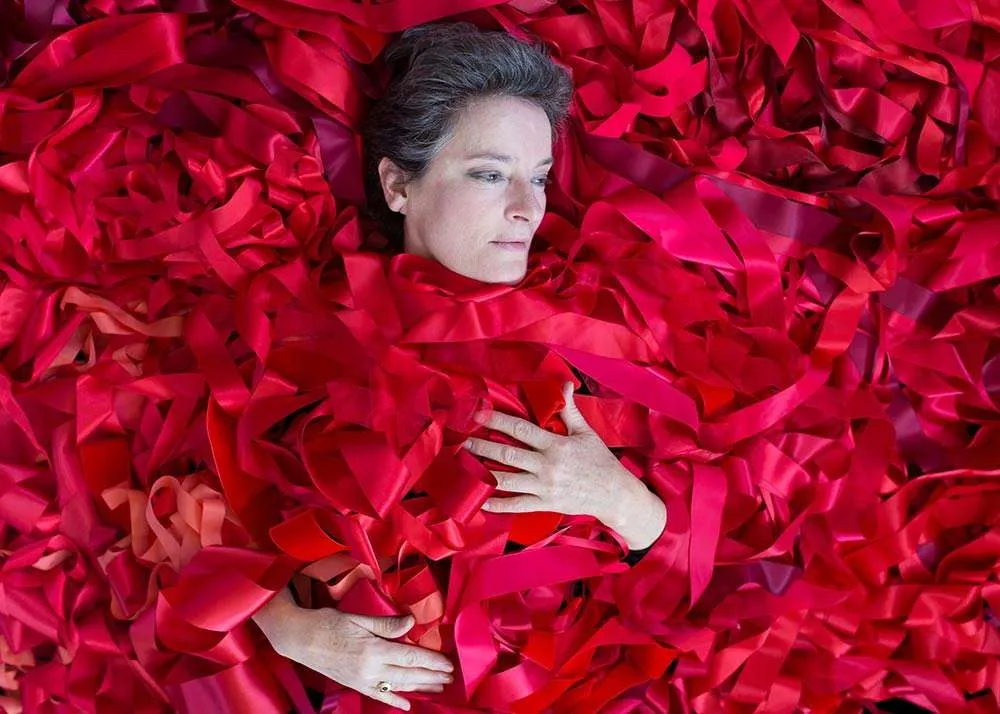 Megan Evans is a multidisciplinary artist, working in video, photography, sculpture, and installation. These media build on a background in the traditional mediums of painting and drawing. Megan's work engages with the nature of community and relationships and her interest lies in the role of art as a dynamic for social transformation. Her practice ultimately involves a mix of conceptual issues and aesthetic concerns.
Megan has a career spanning three decades beginning with large scale political murals in the 1980's. She is also a curator with many years experience developing collaborative projects with artists in a gallery context. She currently spends her time working both as the Visual Arts Curator at the Wyndham Art Gallery and at her studio on the river in Werribee.
Interview with Megan Evans
How do you describe your work to others?
My current work results from over 30 years of investigation into what displaces a sense of belonging in Australia. Whilst my family history in this country can be traced back to the early 1800's, my late husband's Aboriginal culture is far more ancient. The establishment of my family in Australia took place at the expense of his.
I use sculpture, drawing, photography, video and performance to articulate complexities associated with colonisation. Much of my imagery combines original 19th century heritage objects including photographs, furniture and decorative arts with craft processes such as beading and needlepoint. These objects and processes, symbolic of both personal and universal histories, are combined to unsettle traditional understandings of ownership, memory and identity
Do you have a preferred medium?
I use whatever is appropriate for the idea. For example I am doing a lot of what was called 'women's work' in my project about colonisation to make the point that women were just as responsible for the violence of the frontier as were the men and so I take the beautiful things of the era and rework them to depict the violence behind the beauty.
Do you tend to work in series or do you see your body of work as a continuation?
I tend to work to an idea and at the moment the project I am working on is called KELOID and it has distinct stages. I am up to the fourth stage.
What attracts you to your subjects?
My sense of moral obligation as an artist to use my work for something that I believe is important to be highlighted or revealed.
What do you use as reference material?
I use history books, theoretical texts, imagery from all over the place and things that catch my eye. Sometimes it is a piece of furniture or an old spoon and sometimes it is a leaf on the ground.
Do you work intuitively or more consciously?
I work intuitively but always inside a context. I never know exactly what I am going to do or how what I pick up will relate to my project but it always seems to find its own place and meaning.
What's your favourite colour to work with?
Red.
Where do you create?
In my studio at home next to the river.
What's your favourite part of creating?
When the work moves from being half done and a struggle to when it starts to come together and I can see the end result forming. Then it gets exciting.
Have you ever worked with a mentor?
I have had many mentors but no official ones. Just people who have gone before me and inspire me. Women who make work into their old age inspires me such as Louise Bourgeois. I am also inspired by people like William Kentridge who continues to make new and exciting work over time through his inventive and curious mind.
What defining moments have you experienced within your practice?
When I realised that I had to go to the place I most didn't want to go to which was my current project, looking at my ancestors part in the colonisation of this country. Once I confronted it I became aware that I had been circling it all my life and it provided me a context for a life time of work.
What does the future hold for you?
More work, better work, until I die!