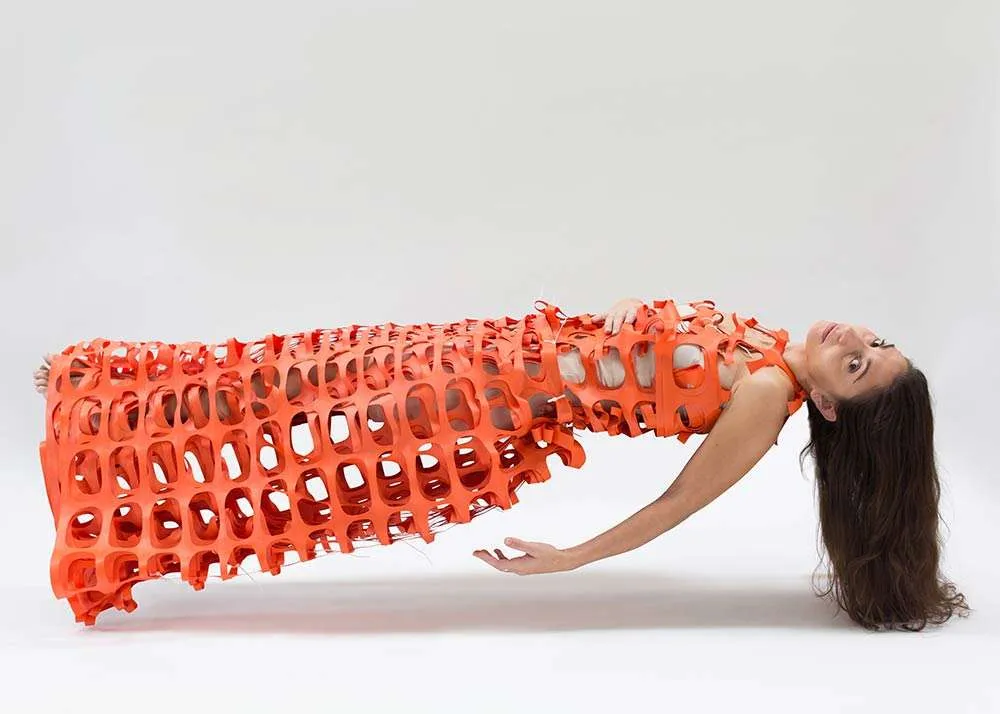 Michelle Hamer maps contemporary social beliefs, fears and aspirations through text, signage and urban environments. Her hand-stitched and drawn works sit being 2D and 3D objects and are based primarily on her own photographs, translated predominately by eye. Familiar and often ironic the works capture in-between moments that characterise everyday life. The boundaries and barriers that Hamer explores oscillate between fast and slow; past and present; personal and political and become markers of rarely captured but revealing moments in time.
Interview with Michelle Hamer
How do you describe your work to others?
With images! As much as I love words with visual art they (or I?!) are limited.
Do you have a preferred medium?
The materials, ideas and my personal limitations all intertwine with my work. I fell into doing hand-stitching, specifically onto perforated plastic because I had to spend most of my time lying down. The integral strength of the plastic and ready availability of wool matched my own physical limitations. More recently I've been using ink on paper and working with barrier tape and construction/debris mesh and I see my practice evolving as these other choices emerge.
How do you begin new work?
Sometimes I have a specific idea I want to research, like my recent interest in language around conflicted border zones, other times I'm reflecting on images I've taken and a series emerges. My work mostly begins with photographing something I glimpse on a journey. I carry a small camera with me everywhere. My phone is also full of notes. I collect lists of words, phrases and ideas surrounding the images and text I'm exploring.
Do you tend to work in series or do you see your body of work as a continuation?
Both. I work in series but each series is also a continuation. Recently other people have begun to re-curate works of mine from varying series and that in turn opens new ways for me to consider what I am exploring and emphasizes for me just how much I am obsessed with the same ideas over time.
What attracts you to your subjects?
Usually there is both a strong personal resonance and a commentary on contemporary social beliefs, fears and aspirations.
What processes do you use to bring your ideas to life?
I go through my images many times, ordering and sorting and printing the ones I'm most drawn to. I then spend hours considering which may work as individual pieces and together. I returned from my last research trip with 5000 images. I had been sorting them into 5 broad themes but the more I go through them the more I find a particular line I need to follow. I have many 'middle of the night' notes on the issues I'm considering.
I broadly mark up the plastic with a Sharpie and then work with a colour A4 image besides me for reference. I usually start by stitching something reasonably large, simple or the text because it makes me feel anchored into the piece. The small details, which sometimes involve different wool for each stitch, are usually the last to be resolved.
What do you use as reference material?
My own photographs, screen shots, conversations, email subject lines -usually language or signage within my environment.
Do you work intuitively or more consciously?
Often I'm literally moving (driving) when I see something to photograph so that's a split second intuitive decision but by the time I'm creating I'm conscious of the meaning, at least on some levels. More meaning may emerge during creation though.
Do you aim to create the finished piece exactly as you envisioned or enjoy allowing it to develop organically?
I'm usually working from a photograph so I have a fairly strong idea of the work but because of the limitations of working with grids and readily available yarns how I balance the colours and image resolution are decisions made through the process.
What's your favourite colour to work with?
I sometimes have favourite wools but not necessarily colours. I do a lot of roads and I had a favourite 'road wool' which unfortunately is no longer produced.
Where do you create?
On the home/studio floor and couch.
Do you have a studio ritual to start the session?
I don't.
What's your favourite music to work to?
I used to listen to music when I worked in architecture but with my art I have to watch TV series' or listen to podcasts. The narrative seems important but I'm not sure why!
Do you enjoy coming up with titles?
For series I really do… less so for individual works.
What's your favourite part of creating?
The moments when there is no pressing admin and nothing else exists except for the making.
What advice would you give to your emerging self?
I still feel like I'm emerging. I think that I increasingly believe its important to not be scared to keep digging to expose yourself and what you truly need to express.
Have you ever worked with a mentor?
I would love to have a mentor. I had some incredible tutors and peers in architecture who are the closest I've had to mentors, some still give me critical feedback which is invaluable to my practice.
How do you alleviate the down times?
Being in the ocean, and remembering that it is part of the process.
What defining moments have you experienced within your practice?
Realising that I had to create and then that it could be a marker of time. I didn't set out to be an artist but it is a part of me.
There have been some exciting moments like having my work shown on a billboard in Times Square and being shown amongst artists I had long admired from afar at the NGV and at TarraWarra Museum of Art.
What is the most memorable artwork you have seen and why?
Way too hard to answer overall but most recently 'The Enclave' by Richard Mosse at the NGV, it is hauntingly beautiful and complex. It sits in the uncomfortable territory of the everydayness of war. It doesn't shy away from either the joyful moments or the devastation.
If you could ask any artist any question, what would it be?
I would ask Mosse if he is exploring any personal trauma through his work and does he have, and if so how does he deal with survivor guilt?
What's next for you?
My next body of works will reflect on my time spent in the Middle East and at the US/Mexican border. My show 'There are no words' continues to tour regional galleries.