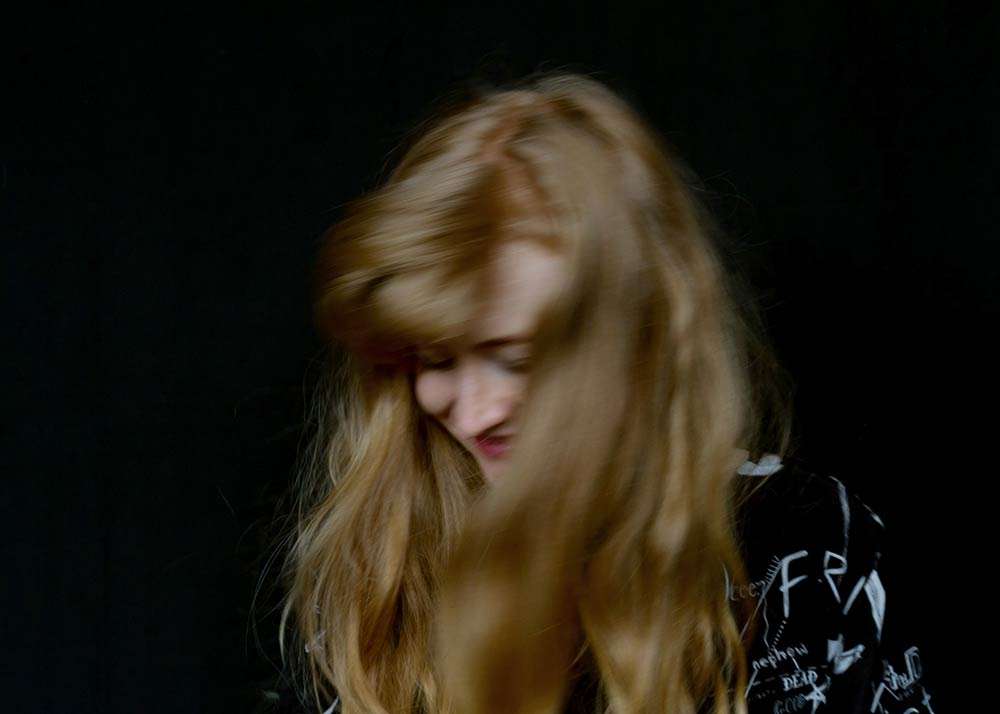 Nell's practice traverses performance, sculpture, music, and painting. Small, intimate objects are just as probable as immersive installations. Her works embody an ongoing interest in contemporary manifestations of spiritual traditions, the inherent histories and magic of materials, the Karmic ghosts of existence, getting intimate with mortality and impermanence, what it means to be in a body, Rock 'n' Roll's potential for transcendence and the power of words in any font!
Nell studied at Sydney College of the Arts, Sydney, University of California, Los Angeles and Ecole Nationale Superieure des Beaux-Arts, Paris. She has exhibited widely in Australia and been awarded residences in Beijing and Rome. Nell lives and works in Sydney, loves Rock 'n' Roll and is represented by Roslyn Oxley9 Gallery, Sydney and STATION, Melbourne.
How do you describe your work to others?
The short answer is that I usually tell people my practice is hard to describe but easy to understand when you see it!
Do you have a preferred medium?
In no particular order my favorite mediums are paint, clay, video, tapestry, glass, neon, bronze, music, clothes, mosaic, found objects and objects from the natural world. But, basically I love 'em all! Each and every material already has inherent meaning so of course I choose materials deliberately to express and/or augment ideas.
Do you tend to work in series or do you see your body of work as a continuation?
Both are true!
What attracts you to your subjects?
Things that come from my direct experience that I want or need to see reflected back at me.
On one hand, I feel that deeply understanding the attraction is more important than the subject per se and to get the core of that can be profound on a personal level. But on the other hand, the personal and the universal are wholly interchangeable and therefore tying to understand attraction seems superfluous in the face of actual experience of making, doing, looking etc.
What processes do you use to bring your ideas to life?
Making.
What do you use as reference material?
Everything!
Do you work intuitively or more consciously?
Sometimes I know what I'm doing and sometimes I don't and most of the time it doesn't seen make much difference to the finished work. The more important thing for me is to be at ease at any place along spectrum from the initial intention to the reality of what is happening in front me. My experience is that is takes a great deal of maturity as an artist to know when to safeguard an idea and keep pushing for it, and when to surrender to a changing course. And it's not always clear and easy! However, part of the joy of an art practice is that it is a ongoing day-by-day, moment-by-moment affair.
What's your favourite colour to work with?
Even though they are not, technically speaking, true colours my answer is black and white. I love gold too.
Where do you create?
Mind, heart, body, soul, breath, brain, studio and wherever else I can!
Do you have a studio ritual to start the session?
The first thing I do when I get to the studio is to get changed into my studio clothes. Sometimes when I'm working on a show I like to wear the same clothes for months (obviously I wash them!) and listen to the same music. It's like having a uniform and a soundtrack that help me slip into that particular show's zone.
What's your favourite music to work to?
The album I've played the most times in my life is Tender Prey by Nick Cave and The Bad Seeds. On perennial high rotation is anything by Nick Cave and The Bad Seeds, AC/DC, The Pixies, The Cramps, The Ramones, The Go-Betweens, The Triffids, Led Zeppelin, The Brian Jonestown Massacre, Nirvana, Grimes, Devendra Banhart, The Yeah Yeah Yeahs, Leonard Cohen, The Velvet Underground, Cat Power, Tom Waits, Dolly Parton, The Beatles, Elvis, Tame Impala, Anna Calvi, Zola Jesus, Split Enz, Ariel Pink's Haunted Graffiti, Timber Timbre, Khaled, Muddy Waters, John Lee Hooker, Chuck Berry, Howlin' Wolf, The Horrors, The Black Keys, PJ Harvey and about 1000 others! On high rotation this week is Deep Purple, tUne-yArDs, The Kills, Tinariwen and King Gizzard and The Lizard Wizard!
Do you enjoy coming up with titles?
Yes, very much so. I keep moleskin diaries of potential titles. I particularly like how words look together especially the juxtaposition of two words.
What's your favourite part of creating?
The freedom to experience the full rollercoaster range of emotions within the safety of the studio while listening to whatever music I please!
What advice would you give to your emerging self?
The same things I tell myself now, and that is to remain open and curious, stay very close to my practice and to equally refrain from self-flattery and self-criticism. Just make the work.
Have you ever worked with a mentor?
When I was at art school I met Lindy Lee, an amazing teacher and artist and I became her studio assistant. She practiced Zen meditation and opened her life to me on so many levels. Essentially she was my art and life mentor at that formative stage when one needs guidance in the world.
How do you alleviate the down times?
Over the years I've developed a few strategies for the come down after big shows.
I usually have a plan that after a show I'll either clean my studio, do my tax and paperwork, visit friends and family or just go to the studio and play in the most unambitious manner. But most of the time it's just onto the next show or project which is just fine with me!
What is the most memorable exhibition you have seen and why?
That's an impossible question as I've been blessed to see so much art. I'll have to limit my response to the most memorable exhibition of 2015 which is still a tough choice! The show that comes to mind is "Late Rembrandt" an exhibition of over 100 paintings and prints at the Rijksmuseum in Amsterdam.
As I'd never really seen Rembrandts work in the flesh I had made the assumption from reproductions that his palette was quite brown muddy. I confess my utter ignorance at not being even remotely interested in his work. But what blew my mind in the Rijksmuseum show was Rembrandt's mastery of light and dark not just in his painting but even more so in the prints. Everyone knew but me.
If you could ask any artist any question, what would it be?
I can't think of a specific question but I'd love to share a meal and chat with Kiki Smith one day!