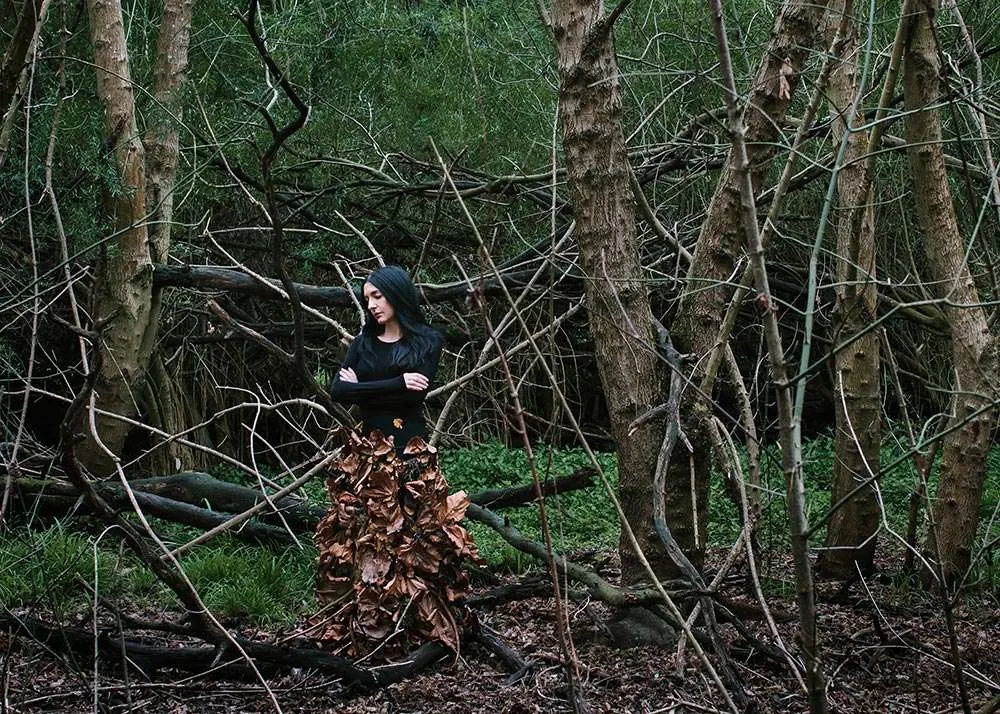 Polixeni Papapetrou is a photo-media artist who explores the relationship between history, contemporary culture and identity in her work. Her subject matter has included Elvis Presley fans, Marilyn Monroe impersonators and body builders. Since 2002 she has she has focused on the representation of childhood in photography.
Papapetrou originally trained as a lawyer, graduating with a BA/LLB, University of Melbourne in 1984. In 1997, she graduated with a Master of Arts, (Media Arts), RMIT University and in 2007 with a PhD, Monash University. She was inspired to pursue photography more seriously after meeting artist and teacher Les Walkling in the 1980s with whom she now collaborates on the realisation of her prints.
Her interest in dress-ups and the performance of identity is a consistent presence in her work and these devices she uses to reflect upon the different facets of childhood to present a picture of a more knowing child. Whether Polixeni is drawing upon ideas about the representation of childhood from 19th century photography, (Dreamchild 2003 and Wonderland 2004), exploring the power of masks and dress ups (Phantomwise 2002), revisiting the experience of childhood in colonial Australia (Haunted Country 2006), reflecting upon a lost freedom and the regulated lives of children growing up in the world today (Games of Consequence 2008), looking at the magical affinity that children have with animals (Between Worlds, 2009), looking at the roles that children mimic from the adult world (The Dreamkeepers 2012), or reflecting on the surrendering of childhood and reconciling the inner world with the social demands of the outer world (The Ghillies 2013), all her work engages with ontological metaphors in life-cycles, the edge of society and the edge of the world.
The main protagonists in her work have been her two children Olympia (born 1997) and Solomon (born 1999).
Polixeni lives in Melbourne, Australia.
She has held over 50 solo exhibitions and participated in over 80 group exhibitions throughout Australia, Asia, Europe and the United States. Recent surveys of her work have been staged at Centre for Contemporary Photography, Melbourne (2013) and the Australian Centre for Photography, Sydney (2011). Papapetrou has exhibited at major international photographic festivals including 'Fotográfica Bogotá, Bogota, Columbia (2013); Photofestival Noorderlicht, The Netherlands (2012); 3rd Biennale Photoquai, Le musée du quai Branly, Paris (2011); The Month of Photography Festival, Bratislava (2010); The Athens Festival of Photography, Greece (2010); Pingyao International Photography Festival, Pingyao, China, (2010); Seoul International Photography Festival, Seoul (2008); 'Le Mois de la Photo', Montreal (2005). Papapetrou has participated in major exhibitions at The Museum of Photography, Seoul (2011); The National Arts Center, Tokyo (2008); De Cordova Museum and Sculpture Park, Massachusetts (2008); Museum of Photographic Arts, San Diego (2007); Aperture Gallery, New York (2007).
Interview with Polixeni Papapetrou
How do you describe your work to others?
I would describe the pictures as story telling, works that contain narratives about identity and how we create roles that sometimes take us to another world. I would say that I create spaces, creating a new reality from fiction and fantasy. I try to have enough reality in my pictures to convince the audience that they are still in the real world, but enough ambiguity to induce fantasy. I try to achieve a balance between fantasy and reality by relying on narrative, mood or atmosphere, lighting, costumes and the acting by the subjects. Perhaps the pictures could be described as a still from theatre or a film.
How do you begin new work?
While making a series often an idea arises that deserves further exploration. Other forms of inspiration may come from props such as masks or clothing.
Do you tend to work in series or do you see your body of work as a continuation?
I think that my work even from the very outset with the Elvis Presley and Marilyn Monroe impersonators suggests continuities with the work that I am making about childhood now. I have been engaged by certain ideas such as acting and performance in photography, boundary crossing, blurring the lines between fantasy/theatre, mythology/reality, archetype/play, male/female, child/adult and animal/human, for many years now.
What attracts you to your subjects?
I am drawn to people who have a strong sense of an identity that intersects with notions of boundary crossing. More recently I have been looking at notions of childhood identity and how even this can be constructed by using dress and performance. But the boundary-crossing is not a sociological phenomenon. I am interested in how it acts metaphorically, as if to suggest that we can cross into another realm or purpose.
What processes do you use to bring your ideas to life?
I use a similar process to someone who would work in theatre. I rely on costumes, props, directing and performance to realize my ideas. But I'm also passionate about history, the phenomenology of age, imagination, archetypes, oddballs; plus I like to talk with my children about their wonderful acting.
What do you use as reference material?
The process of picture making has many sources. The inspiration may come from a combination of sources such as a person you saw on the street, a character in a novel or in a film, a person remembered from childhood or a painting.
Do you work intuitively or more consciously?
It's likely that my work is a reflection of my unconscious thinking. I don't know that in recent work I have set out with a specific agenda as such, but rather I have started the work with a vague idea that takes shape in the making. At the outset, I definitely have the characters in my mind and find the habitat for them. I guess that the act of photography for me is about reconciling my inner world, possibly the unconscious to the real world I encounter.
Do you aim to create the finished piece exactly as you envisioned or enjoy allowing it to develop organically?
Although I have an image in mind, I cannot predict how it will take place and unfold on the day. I begin with the idea, make the necessary preparations and hope that it develops either in the way that I envisaged or even more than that.
You originally studied to become a lawyer but then fell in love with photography and became an artist. What was that transition like?
The transition was very smooth as I was already working as an artist and by leaving my legal job I was able to spend more tine working on my pictures.
You regularly exhibit your work nationally and internationally, are there any differences when exhibiting overseas compared to Australia?
Often there is a wider audience overseas merely because of the sheer force of numbers in cities such as Tokyo, Seoul, New York or Paris. Other than this there is still the same level of curiosity from the audience whether it is local or overseas regarding the locations of the work and techniques used.
Do audiences respond to your work differently depending on where you're showing your work?
I think that this depends of the make up audience itself. Possibly cultural differences may be a deciding factor in the type of work that is selected for a particular international show
Has there been any response to your work that was particularly memorable?
I don't think that I'll be able to forget the response to the image of my daughter Olympia on the cover of Art Monthly Australia.
What are some of the most significant moments in your career?
Being exhibited at The National Arts Centre in Tokyo was special as well as being exhibited at international photography festivals in countries such as Spain, Columbia, Greece, Canada, and Korea. I have met some wonderful people working in photography as artists, educators and curators at these international events.
What significant changes to Australia's photography and art industry have you seen since you began your arts practice?
The biggest change has been a technology change from analogue to digital photography, from the darkroom to Photoshop and from each print having its own idiosyncratic qualities to a print that can be printed identically each time.
I think that it may be harder to photograph people as there seems to be an increasing questioning of photography. Even though nearly everyone takes pictures today on Smartphones, at the same time people are more aware of how their image will be used. Other changes are photo sharing websites that have been established to carry these images such as Flicker, Instagram, Photobucket, Picassa and so on.
On the gallery front, I have seen commercial galleries either closing or changing their model preferring to operate from an office and staging pop up shows in hired spaces or art fairs. I think that it is becoming harder to find representation in the gallery system. Some artists are even taking the initiative of opening their own exhibition space where they can exhibit their work and that of their contemporaries.
Are there any particular galleries you always love to visit?
Of course the National Gallery of Victoria is a favourite, a treasure trove full of the most remarkable objects and works of art.
Where do you create?
It's best to look for a location that suits the characters in the picture. I have to imagine that this is the place where they might live. And if the place is nowhere but in the imagination, I organize for a scene to be painted on large scenic backdrops in our studio at home.
Do you enjoy working with the elements when photographing in the landscape?
The landscape can be unruly and unpredictable and best avoided in bright sunlight. When you are photographing in the landscape, you sometimes have to adopt some contingencies or use the unforeseen moments such as a sudden gust of wind to your advantage. In fact the contingencies are often what I wait for, as they guide me. Of course I have learnt to avoid harsh light and sun unless there is a lot of fill and flash to compensate for the inky shadows. However, it's not very comfortable for the people involved so I avoid this type of situation now.
Do you have a ritual to begin a photo shoot?
It's important to check my equipment beforehand, make sure that it is clean and working properly. I lay out the costumes and ensure that everything looks right. If I feel any doubt I often change aspects of the costume or bring both to location and work with the one that suits the colours of the location the most. And of course you have to plan everything else: food and drink and other creature comforts.
Do you enjoy coming up with titles?
This can be tricky, like naming a child. Once the title is in the public arena you are more or less stuck with it. Sometimes the titles come to me quickly, at other times the children suggest titles (which are often the best) and at other times it can be a long process. Eventually the titles come to me and sometimes as a surprise but I would have been thinking about it unconsciously for days or weeks.
What's your favourite part of creating?
Having the idea, assembling the costumes and props and finding the right location for the picture that I have in mind.
What advice would you give to your emerging self?
I don't know that I would change anything. When I was a beginner photographer I read a lot of photography books, looked at thousands of pictures from the history of photography. I also took hundreds of pictures and scrutinized them carefully for any little fault that I could find. It was a case of practice, practice, practice on anyone and anything. It is this process that fine tunes our vision, sight and skills.
Have you ever worked with a mentor?
I met the master printer and educator Les Walkling in the mid 80s when I did a photography course with him. The meeting was pure chance but he was such an inspiring educator with a strong philosophical and deeply thought through approach that appealed to me. At that stage I was making and printing my own black and white work. Les became my MA supervisor at RMIT in the 90s and we started working and printing together in 2005.
How do you alleviate the down times?
I don't know that I have down times over my work. Work is one part of my life and my family is an even bigger part of my life. If there is a problem with work I try to solve it and I'm of the belief that all problems have a solution. I don't let either the ups or the downs of work get in the way of living my life. My life comes first and the work is a part of it. I guess that it defines me in a public way, but it does not define me as a mother or partner or friend.
What defining moments have you experienced within your practice?
The move from a 35 mm format camera to a square format camera.
What is the most memorable exhibition you have seen and why?
There are so many memorable exhibitions and artworks in the history of art that it is difficult to single out one event or work. When I stood in front of the 'Mona Lisa' at the Louvre I was surprised that I wasn't as not as moved as I thought that I would be. Perhaps seeing it behind glass and as part of a crowd affected my perception of the work. However, when I gazed at Manet's, 'Olympia' at the Musée d'Orsay in Paris, it was very hard to say goodbye to that painting. Outstanding and memorable exhibitions include Sophie Calle at the Tate Modern in London and at the Palais de Tokyo in Paris, a Lucien Freud retrospective at the Centre Pompidou in Paris and Ai Wei Wei's sunflower seeds at the Tate.
What does the future hold for you?
Keep working! I am currently making new works that incorporate painted scenic backdrops and masks. I am loving it. I love it that as artists, we always have a project.