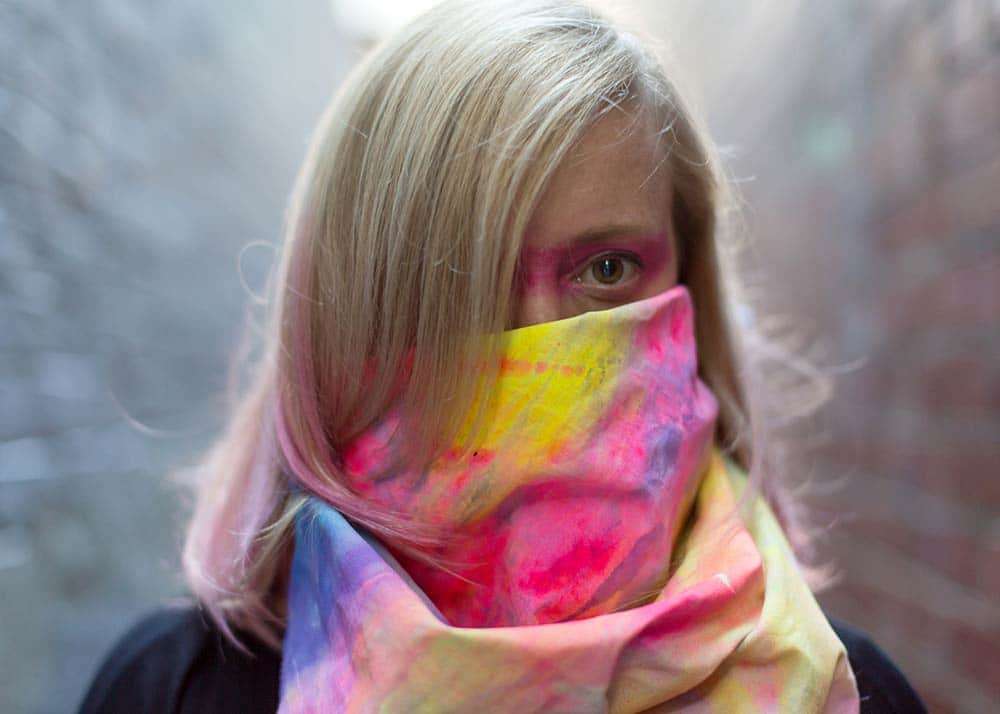 Vexta is a self-taught street artist with a bohemian heritage from Sydney, Australia. Her bold and extravagant artworks have invaded our visual landscape from Melbourne to Mexico and everywhere in between, she is a nomad of our modern times. Viewing the world through her psychedelic kaleidoscope, Vexta reinterprets the sacred elements within science, cosmology, mythology, life/death and the feminine navigating these themes through the common threads that bind our experiences. The traditional totems of non-western culture have since become her inspiration to describe what it is to exist in the contemporary world. Juxtaposing animals and human forms amid her symbolic, geometric shards, she provides an insight into our fundamental engagement with the human condition.
Currently based in Brooklyn, NY, Vexta spreads her vision across the continents and countries, studios and streets, balancing exhibitions, commissions and creative ventures alike. She has exhibited extensively across Australia, Europe and North America, including The National Gallery of Australia and has her work held in numerous public, academic and private collections globally.
How do you describe your work to others?
I generally speak of my colour palette first. The triangle and diamond shapes I choose to use and their repetition. Then the symbols and themes I'm interested in. The most pervading themes that runs through almost all my work are ideas of and a sense of Freedom and Interconnectivity. The geometric shapes are symbolic representations of the particles that make up all matter. I'm incredibly interested in and inspired by science and in particular quantum physics. My figurative work is more literal. Ideas of metamorphosis, transformation and mythology interplay with my more abstract notions – birds, wings, feathers, flight, movement, the human body, the feminine. As I travel I try to investigate different mythologies and stories relating to flight and the feminine. I'm looking for universal truths in this kind of storytelling, the red thread if you will.
Do you have a preferred medium?
I've always worked with a by whatever means is necessary approach. But that said I love painting and photography above all. No matter what I think they will always be a part of my practice.
How do you begin new work?
Ideas, dreams, day dreams, thoughts… I make notes, I collect things, I stick them onto a wall. I then either start with a photo – mine or found imagery and that usually ends up being collaged. Traditionally and digitally. Then I paint.
Do you tend to work in series or do you see your body of work as a continuation?
I see my body of work as a continuation. It's many parts of the same whole.
What attracts you to your subjects?
Magic. Something that I can't explain really, I either see in them something I want to capture or in some way I know they can express what I'm trying to talk about.
Do you work intuitively or more consciously?
I've always worked quite intuitively. I think instinct is very important in creation and I'm always interested in the way meaning is revealed in the process. The further I go the more intention I have though. It's an interesting balancing act.
Do you aim to create the finished piece exactly as you envisioned or enjoy allowing it to develop organically?
There's a bit of both. I enjoy the challenge of seeing something inside my mind and bringing it out exactly as I see it. But I always want to leave room for experimentation. I think that is very important. It's part of what makes art, Art.
What's your favourite colour to work with?
In recent times – the deepest more vibrant pink I can get my hands on. That and transparent hues.
Where do you create?
For the last 6 months I've been creating on the road – painting walls and pieces in Australia, New Zealand and El Salvador. Now I'm back in New York about to start a new set of paintings in my studio here in Brooklyn. I love the challenges of painting walls, making work in hotel rooms and at friends places but it's nice to balance it with solid studio time.
Do you have a studio ritual to start the session?
I burn Palo Santo or Copal in my studio. Then I will get in my swinging hammock chair for a few minutes, let the scent swirl around and fill the space, take a few minutes to centre myself, contemplate where I left off the day before then get back into it.
What's your favourite music to work to?
It depends what I'm working on. But I usually like weird oddball electro mixes or modern classical mixed with electro, I'm a music nerd and I'm always looking for new sets, concerts, albums or recordings to listen to while I paint. A bunch of my music making friends know this and luckily send me links of things to listen too. Sometimes I listen to lectures or podcasts if I'm doing something repetitive that doesn't take a lot of concentration.
Do you enjoy coming up with titles?
I'm quite influenced by music so sometimes I'll pick out a song lyric from something in listening to at the time. It's a nice little in joke or a way to mark the sound in the work. Plus I always love it when someone picks up on that.
What's your favourite part of creating?
Being alone in my studio. Especially at the witching hours of around 1am-5am. I feel like I often make my best work then. There's something about the darkness and quiet that helps me create.
What advice would you give to your emerging self?
Don't be afraid to fail and don't hold onto your failures. Everything is a step in the process.
How do you alleviate the down times?
I've gotten better at actually just taking this downtime for myself. I used to struggle through and beat myself up because I wasn't making anything. Now I treasure my downtime because I know in a few weeks or a month I might be working 16 hours days or in deep in some festival or project. So when I have it – I'll just take a day and stay in bed and watch movies or go hang out with my friends, go to some galleries, read, do yoga or meditate. Things like that. My world isn't very constant and I travel a lot so downtime is more precious to me now.
What defining moments have you experienced within your practice?
When I'm on the right path creatively I feel like small epiphany moments happen frequently. Signs and signals pop out of conversations, research, reading, images. I feel like being an artist is being open to all things things that are going on in the world and somehow pulling parts of them together to create something that expresses the current condition of being human.
What is the most memorable exhibition you have seen and why?
There's been many. When I went to Paris for the first time and saw the work of the Dadaists and Surrealists at the Pompidou and realised / remembered the influence of them my early work. Going to Kutna Hora as a child of about 11 to the bone ossuary, which isn't really an exhibition but it's definitely an artwork. That started a long fascination of painting bones, skeletons and skulls. As well as art existing outside of museums and galleries. My parents couldn't drag me out of that place.
If you could ask any artist any question, what would it be?
I would ask James Turrell to take me on a tour of the Roden Crater.