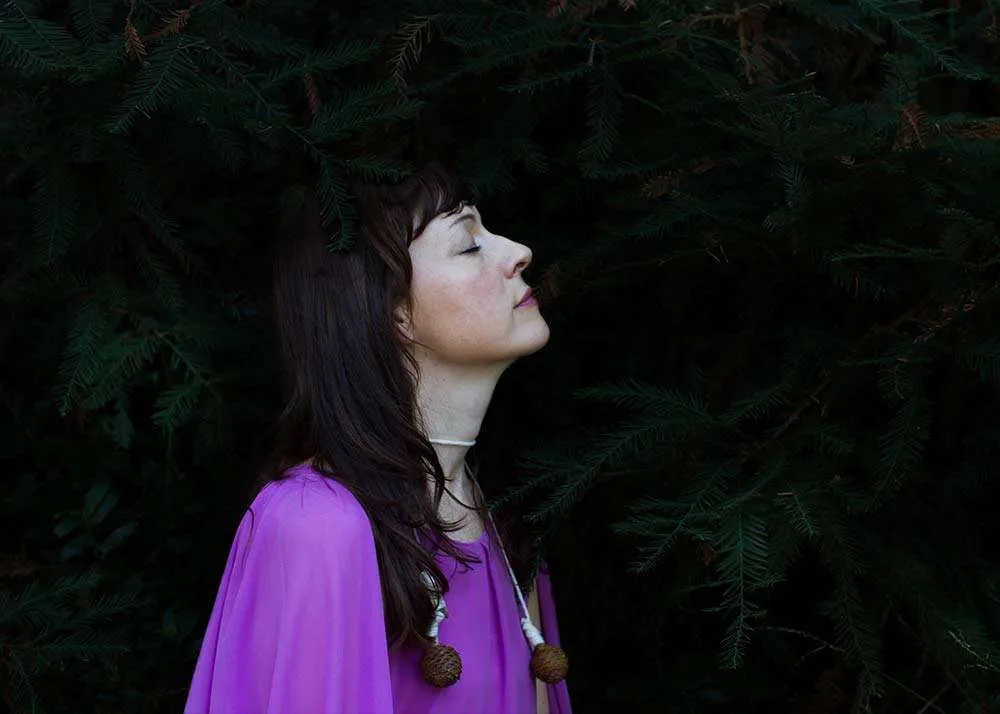 Wanda Gillespie is an Australian/New Zealand contemporary artist. She uses sculpture and photography to explore fictions and ideas around history, culture, ritual and ceremony. Her work questions the nature of reality through narrative. Her sculptures are often presented as historical artefacts. An interest in the mystical, paranormal spirit world is central to her work. Wanda creates sculptures primarily in wood and ceramic. Photography is often used to create staged performative pieces involving costume making and sculptural props.
Since graduating in 2009 from the Victorian College of the Arts with a Masters of Fine Arts, Wanda has exhibited regularly with recent solo exhibitions including Levitation Practice, MARS Gallery, The Ceremonial Processions of Dreamers, Lindberg Galleries, The Antarctic Kingdom of Gondwanaland, Craft Victoria and Fehily Contemporary, Into the Void, Linden Contemporary Centre for the Arts, and Tana Swiwi, Westpace, Melbourne. She has been funded through Australian Arts Council,  Arts Victoria, and the City of Melbourne for her solo projects and was artist in residence at the Cité Internationale des Arts, Paris, France, through the Art Gallery of New South Wales.
Wanda is currently working from her studio in Auckland, New Zealand.
Interview with Wanda Gillespie
How do you describe your work to others?
I work in various materials but my focus has become more figurative wood carved sculpture. I think of my sculptures as artefacts and am drawn to exploring the malleable nature of history through narrative. The mystical/spiritual/unseen worlds, ritual and ceremony, are all re occurring themes in my work. I often accompany my sculptural works with pieces of fiction using real and invented historical facts.
Do you have a preferred medium?
I seem to be continually drawn to working with wood. I think it's the beauty within the natural shapes, the stories/histories of summers and winters told through their rings. I like working with clay for the ease and speed with which you can experiment with forms. That has been a good medium to play with in between arduous carving projects. Portraiture continues to lure me.
I also love working with photography and setting up performative scenes with people, making costumes and sculptural props. I have an old Yashica twin lens box camera and a super 8 camera. I love the quality of film.
How do you begin new work?
I usually have an idea, something that wasn't quite resolved in a previous work, or something that has been bothering me to make for a while. I start with rough drawings. For the figurative wood carved sculptures, I take portrait photographs on various angles of the people I plan to carve. Sometimes I search for different hair styles or features online that I would like to try and incorporate. The narrative aspect is something that lately develops alongside in a murky way. I try to write every morning on waking. I start with recording my dreams and then often drawings and artistic ideas continue from there.
Do you tend to work in series or do you see your body of work as a continuation?
In the past, I've had a conceptual framework that drove each individual project but now I see them as continual iterations of the same or similar ideas. When I began working with the figurative, my need for narratives became less important, as the sculptures had their own conversations and stories between each other.
What attracts you to your subjects?
I like finding new purposes and histories for everyday objects, reinventing the known. I am attracted to the wondrous, mysterious and supernatural. I've been fairly obsessed with sculpting spirits and have them converse with my other figurative sculpture. I'm interested in how spirits are widely depicted in Indigenous cultures but are not so common in the Western history of art. I often feel like I am searching for the perfect form, that probably doesn't exist, but the possibility of the idea is exciting.
So far, my figurative sculptures have been of family and friends because they are easy to refer to during the carving process. Early on my father in law was a muse. As a Russian Orthodox priest, he had a certain air about him and I was attracted to the possibility of highly spiritual people having a somehow magical quality in their facial features, and that that magic quality might translate somehow into the sculptural form (plus he had a really cool beard). After spending time in Indonesia I became interested in Javanese mysticism and the idea of objects possessing a kind of soul/aura. I try to imbue that in the works somehow. I think a lot of that is present anyway in the gestures of the handmade.
What do you use as reference material?
I often look for images of objects I'm thinking of online. I enjoy looking at museum artefacts but also decorative arts and crafts like furniture. I'm interested in architecture and natural forms in nature, patterns in plants. Sometimes I find photographs of people in action, perhaps some lines of fiction/poetry stir my imagination. I create little mood board type of montages. Often, I don't end up bringing much of it into the work, but it is a feeling to refer to. With the wood carving I am working precisely from the photographs I've taken of models to carve from, so it is more of a reproduction, unless I am diverting from the human form, for example in the spirit figures.
My (6 year old) daughter Mila's drawings have been quite inspirational in their use of form and colour. She did a whole series of drawings of people lying down which fascinated me. I began to question my own artistic work and why my figures were always upright, when we spend 1/3 of our day lying down. It led me to my levitation practice sculptures of figures lying between logs attempting levitation. So, I have a lot of her works pinned up in the studio.
Do you work intuitively or more consciously?
I feel like as I build up my visual language my work becomes more intuitive in its process. Even when I've created fictional artefacts from invented cultures, where the fiction was more clearly defined before the creation of the work, I still allow myself room to work intuitively in the process of creating. I guess the intuitive process is often more in the preparatory drawings and less so in the final process of carving, where there is less room for trial and error. Although then the installation experimentation brings new life and intuitive processes, and photography comes back into my method, as I test out different placement/assemblages.
What's your favourite colour to work with?
I love mint green and cerise. I've been so involved with the sculptural form making in my work, and the beauty of the natural wood that I haven't been working with colour much at all, although it's something I'd really like to reintroduce.
Where do you create?
Generally, I work in a garage type space as my work can be messy. Although I try to have different zones for cleaner work. I have just moved again so am in the process of setting up a new space. I end up bringing things inside the house at times, the kitchen table is handy. I do sanding outside, preferably somewhere amongst plants. Photography is an essential part of my process too, and that can happen anywhere. The processing I do in Photoshop or Lightroom. I feel like I have had to be pretty adaptable, and will find ways to work with whatever space I have available.
Do you have a studio ritual to start the session?
Not strictly. I used to have a necklace and a jacket to put on but that got in the way. Time is often a problem as I am juggling young children and work, so I usually try to set an intention of what I aim to achieve in the time that I have.
What's your favourite music to work to?
It's always changing. I'm more likely to listen to podcasts or radio. I listen to spiritual podcasts, poetry podcasts and visual artist interviews. It depends what part of the making process I'm at. If I'm using power tools, there is almost no point. I can't hear anything. If I'm doing extremely difficult fine detail then silence is best or focus binaural beats.
Do you enjoy coming up with titles?
Yes and no. Sometimes I have a title that brings it together conceptually, or some words that were always in mind while I was making it. Sometimes I don't want to label my work (like the artist formally known as Prince), but then I think I've decided to officially stop using Untitled, it feels lazy.
What's your favourite part of creating?
The excitement when something in your mind starts to come together in a physical way, and it's working successfully. There is enjoyment throughout the processes but certainly some very tedious moments of labor too. I enjoy writing and drawing ideas but then often feel a frustration with those sketches and just want to get on with making.
What advice would you give to your emerging self?
Don't be too shy to connect with people and talk about your work. I think I wasted a lot of time being too shy and assuming that everyone in the art community was far more intelligent and sophisticated than I was. Sharing your love and passion for your work is the way to get through that shyness and learn and grow from others feedback.
Work hard and learn as much as you can.
Try to exhibit more outside of Melbourne. It was easy to stay in the Melbourne art bubble.
I would say apply for more residencies before having children. Perhaps I would also say wait a couple more years before having children so you have made the most of all the emerging artist grants and opportunities and become more established in your career. However, I probably wouldn't have listened anyway as I felt a fairly strong biological urge to have children at 30.
Have you ever worked with a mentor?
Yes, I did a Jump mentorship with Nicholas Mangan. It was great to have someone to discuss my ideas with and talk through a solo exhibition project with. We had a lot of overlapping interests in our work. The Jump mentorship program had a lot of great professional development activities. One of the most wonderful aspects was meeting all the other emerging artists and creative people from around Australia, learning about their practices and seeing their work develop. I think mentorships are a fantastic idea and learning opportunities outside tertiary institutions ought to be more valued and fostered.
How do you alleviate the down times?
Usually looking at images of past works that I feel were successful is helpful. Finding inspiration for new work somehow, somewhere. Watching films, reading,visiting art galleries. Remembering it is your life purpose to create and share it, and you will continue making till you die.
I listened to a podcast recently of artist Phyllida Barlow that was inspiring. She didn't really get recognition till much later in life. But she remained dedicated to her art making and loved what she did.
Sometimes writing a proposal for an exhibition helps me get excited again, as it gets innovative ideas bubbling and new questions to ask myself or solutions to previous problems.
What defining moments have you experienced within your practice?
I feel like my practice is forever evolving as I learn and change. There have been a couple of defining moments though that have changed the direction of my work. In 2004 after graduating from an Intermedia Fine Arts degree, I had all my gear, cameras, laptop, hard drive etc. stolen in a house burglary. I was devastated as I felt I had no way of creating without these tools. I decided that it was a sign to move away from video and sounds art, so I began making sculptural things with what I could, and bought a stills photography camera. I came to think that a lot of my video works would have been more successful as still photographs anyway.
In 2007 I took an Asialink residency to Indonesia. This was where I first started to make wood sculptures with the help of talented local woodcarvers. To have the work fabricated to my specifications, I needed to render detailed drawings for the artisans to work from. Drawing was something I hadn't really done for a long time, but enjoyed. I continued to work with wood carvers in Java and Bali to produce my work (or components of my work) until I dedicated myself to learning to carve.
In 2011, I started woodcarving classes with Ronnie Sexton at the Melbourne Guild for Fine Woodworking. I had a lot of gaps in my knowledge about traditional sculpting skills up till that point, and learnt so much from her. It was wonderful to have a female teacher as I had tried to learn to carve wood in Indonesia but it seemed to be very much an intimidatingly male only activity.
What is the most memorable exhibition or artwork you have seen and why?
While on residency in Paris I saw an inspiring exhibition at the Jeu de Paum by Laurent Grasso. The exhibition was almost maze like, with different darkened rooms.
In one room, he created a series of landscape paintings in the style of 15th or 16th century Italian or Flemish painters, with strange futuristic floating objects or celestial phenomena in the sky. He exhibited these alongside real historical religious paintings from the same era, so there was a curatorial aspect to the work. I really liked the way he used old methods in new ways to disrupt notions of history or in his words to produce 'a false historical memory'.
In another room, there were wonderful large old black and white photographs of religious researchers at the astronomical observatory in the Vatican (one of the oldest astronomical observatories in the world) attempting to understand ultimate truth through the stars.
In another room, there was a super 8 filmed at the garden at Bomarzo, Italy, known as the Park of Monsters. Visually beautiful, these wonderful sculptural forms and architecture were over grown with natural vegetation. A voice over brought a new dimension to the work, using excerpts from quotations on the bases of the sculptures, constructed into a narrative.
What does the future hold for you?
I have an installation of recent sculptures in an exhibition at the Fremantle Art Centre coming up in July, which I'm really excited about. I'm also creating a public sculpture for Sculpture in the Gardens at the Auckland Botanic Gardens in November.
I have a lot of dreams, I would love to do more residencies and try to do more public sculpture projects. I have a strong desire to paint, and imagine that will be the next development in my wood carved sculptural works. I'd also love to try carving marble and travel to Italy one day to see the great masters. I would love to do a PHD one day, though for now I am gaining a lot through refining technical skills and intuitive lines of inquiry.