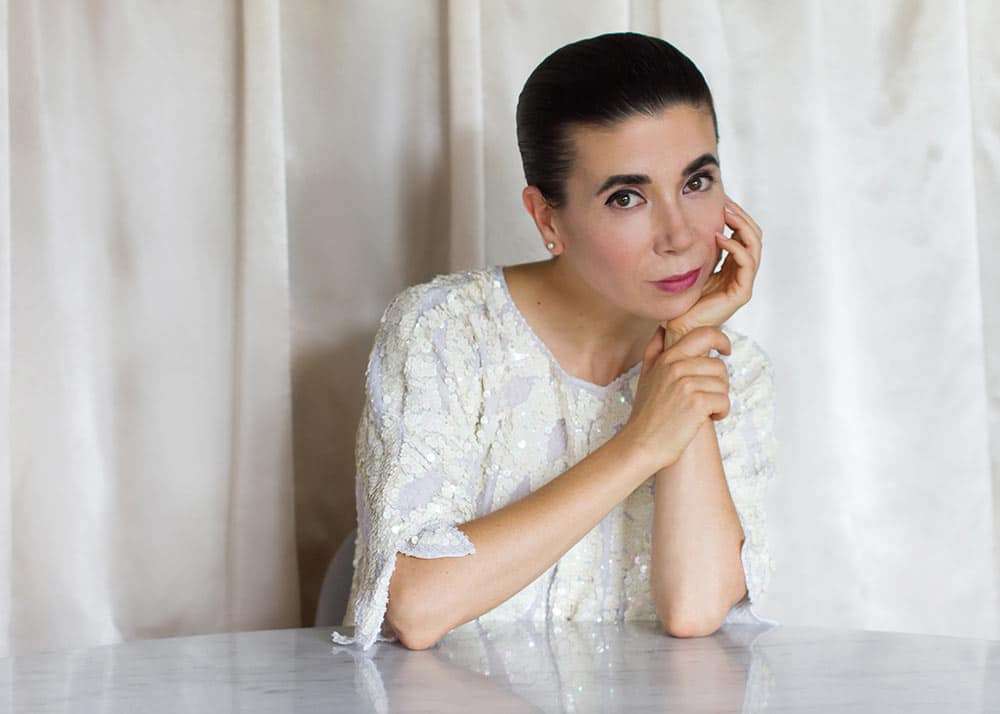 Yvette Coppersmith has been a finalist in the Archibald Prize (2017, 2016, 2009, 2008), the Doug Moran National Portrait Prize (2016, 2007, 2006, 2002), the Portia Geach Memorial Award (2016, 2008, 2007, 2003) and the Metro 5 Art Award where she was the inaugural winner in 2003 and a finalist (2004, 2005, 2006, 2007). She has exhibited in solo shows nationally and been included in a number of group shows internationally.
Coppersmith has worked on commissions to paint portraits for distinguished figures such as Justice Rosemary Balmford and Rupert Myer AO. Her works are held in a number of public and private collections, including the Jewish Museum of Australia; Benalla Art Gallery; the Supreme Court of Victoria; Trinity College, The University of Melbourne; University of Technology Sydney (UTS). Coppersmith also works as a drawing and painting teacher and has led workshops at the NGV, Geelong Grammar School, and The Art Room.
Yvette Coppersmith's artwork
Interview with Yvette Coppersmith
How do you describe your work to others?
It's been harder to put in a nutshell in recent years. I work in realism (mainly portraiture) and abstraction and also a combination of the two.
Do you have a preferred medium?
Oil on linen
How do you begin new work?
I tend to rework paintings multiple times until resolved. This allows an organic evolution and results in some interesting surface texture. I also love the smooth surface of a blank canvas.
Do you tend to work in series or do you see your body of work as a continuation?
There have been many bodies of work with clear demarcations conceptually and stylistically…they've each been essential to the evolution of my practice as a whole.
What attracts you to your subjects?
Usually related to how I feel, what I'm obsessing about, and what I want to look at next. Some of the people I've painted already look like the painting I want to make. Sometimes I have wanted to paint someone to explore the social interaction, or to play with the dynamic inherent in the relationship of artist and model…I'm thinking back to my portraits of curators and gallerists in 2008.
What processes do you use to bring your ideas to life?
Working through multiple paintings on rotation can help resolve the direction of each work. Plus long hours in the studio. Also looking at your work in reverse in the mirror gives fresh perspective, without the canvas facing the wall for weeks.
What do you use as reference material?
Working from life, drawings, photographs, magazine clippings, and stylistic references from other artists.
Do you work intuitively or more consciously?
Intuitively and process driven.
What's your favourite colour to work with?
I regularly update my fave colour – easily influenced by trends in design and fashion.
Where do you create?
The single car garage at home has been converted into a studio.
Do you have a studio ritual to start the session?
I really like ritual…but it's subject to change. Usually it involves coffee.
Do you enjoy coming up with titles?
The most practical titles are descriptive so as to remember what they refer to. It's about as exciting as packing work for transport but takes more thought. I've tried being poetic but it was harder to remember which painting was which.
What's your favourite part of creating?
Being in the zone and noticing synchronicity.
What advice would you give to your emerging self?
Speak to artists about shared experiences.
Keep experimenting.
Get everything business related in writing.
Have you ever worked with a mentor?
Upon graduating from VCA in 2001, there was a mentor program one could apply for. VCA put me in touch with artist Julia Ciccarone. We had a couple of studio visits and I felt like Julia was so down to earth and easy to talk with. Now I'd say my mentors are my artist friends – sharing experiences and ideas.
How do you alleviate the down times?
I declutter cupboards, give things to op shops, buy things from op shops, visit libraries, do some gardening, rearrange the furniture and re-hang pictures. It makes space for new ideas and inspiration.
What defining moments have you experienced within your practice?
My painting style started to loosen up in 2009, after years of photorealism. In 2017 the first paintings I'd sent to a group show in Europe were textured geometric abstractions. I never could have foreseen that development but there were numerous experiments to arrive at that point.
What does the future hold for you?
The complex evolution of painting Emeritus Professor Gillian Triggs will be part of a doco
– 'The Archibald' – 4 part series following 8 artists preparing their 2017 entries. It screens on Foxtel beginning 12 Sept 2017.