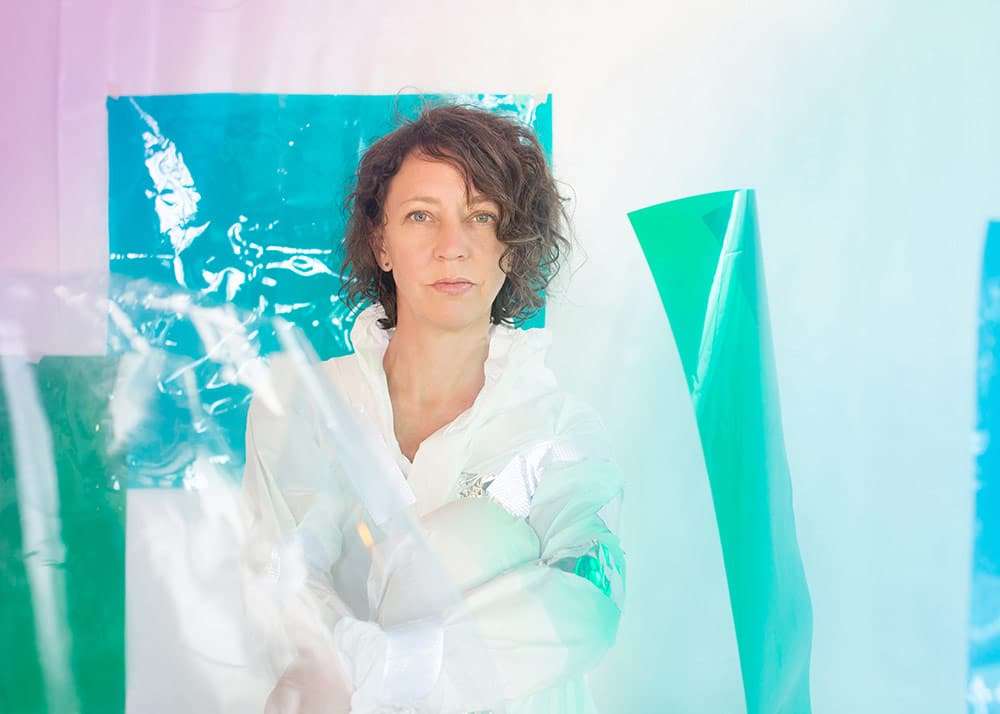 Danica Chappell graduated with a Bachelor of Fine Art (Honours) in 2005 and Masters of Fine Art (by Research) in 2012 from the Victorian College of the Arts. She is best known for questioning and abstracting conventions of photography through analogue darkroom practice and early forms of photographic processes.
Danica Chappell's artwork
Interview with Danica Chappell
How do you describe your work to others?
I work with photography like it has elasticity. I make photographs without a camera and by using various photographic processes and materials in my darkroom. There is a balance between control and slippage in the abstraction that explores the material nature of photography. Sense of touch is important for me to feel the medium or the mark made – to hold the image in its latency.
How do you begin new work?
Generally, I will start with a loose 'tidy up' and sort through previous test strips and notes. I may not have an exacting question when I start a new work but I know that I have a point to start from. One question or material is tested with another and another until there are many aspects unfolding for me to flex and stretch. Sometimes the 'beginning' is in conjunction with a known space to work to and then aspects of sight lines or traverse of the space will filter into the testing.
Do you tend to work in series or do you see your body of work as a continuation?
I see 'series' and 'continuation' linked, really. There are characteristics in the methods or processes used that may set a parameter which might define a series but then, my overall body of work is in a continuation of an entanglement with photograph and its history.
What attracts you to your subjects?
Simple pleasure of light, shadow, form, touch and then the complex nature of light sensitivity, surface, representation, abstraction, depth.
Do you work intuitively or more consciously?
Can I say, I'm consciously aware of my intuition?
Where do you create?
When renting, a permanent artist studio is a precarious thing in this city. I have a great space that functions really well for me at the moment and hope that this set-up is not turned into apartments.
Do you have a studio ritual to start the session?
Not really, although I'm generally up early (on weekdays), but start slowly. It really depends upon where a work is up to, I could be stepping into the chaos of a half exposed work, remembering the feel of the last thing completed the evening before. Time is an ever present ritual.
What's your favourite music to work to?
Both noise and a quiet space to think, are really important elements in my studio. Sometimes I will have a playlist on repeat until a work is finished and perhaps this is a way of me remembering the components of an exposure or process. Other times I'm happy to listen to machines, water and running fans. Podcasts generally distract me.
Do you enjoy coming up with titles?
I do actually, though enjoying it doesn't make titling any easier.
What's your favourite part of creating?
All of it. The 'starting' is about time to focus or defocus, maybe it's a combination of both. The 'continuation' offers visualizing and potential avenues for resolving a work and which introduced 'hope' that you still don't mind it even if the potentials are not reached. Time moves incredibly fast but I feel that each work experiences the liveness of time. Sometimes there are days wait between the darkroom activity and seeing the work fixed. The results can flip a work's direction which is a wonderful thing to reflect on.